Exchange unwanted gifts locally for useful, practical cloth diapering items!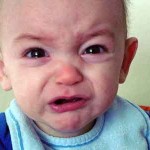 Did your kiddos (or you) receive any unwanted gifts for Christmas this year? There's no point in exchanging them for other unNEEDED gifts, so take your Christmas exchanges to the next level this year, and swap them out for practical, useful, cloth diapering items!
It's a myth that you can't find cloth diapering products locally, even if you live in an area where there is not a natural parenting or cloth diapering store.  You have to think outside of the box!  The name of the game is stretching your buck by searching out sales!
Do you cloth diaper your baby? Try taking back the loud, expensive toy you ended up getting two of, and check out a couple of places that have sales on fleece pants for diaper covers or even blankets as flat fold diapers!
Old Navy has their fleece pants on sale right now for $4.99.  Make sure you get 100% polyester, or you'll have a cold, wet baby in your lap, and you know that that means!
The Children's Place is having an After Christmas Sale both online and in stores. You can take and extra 30% off of already clearanced holiday items, AND you can either print a 15% off coupon for in stores or use checkout code C6C2010 valid through January 2. PLUS!!!!  TCP has $5 FLAT RATE SHIPPING on all orders if you prefer to order from home!
Right now, they have glacier fleece pants (diaper covers, longies) on sale for $5.95.  These are GREAT for night time cloth diaper covers!  Remember to get a size larger than you normally would to allow for the diaper!
Do you like to use flats and prefolds or, have you not tried them but kinda want to?  Check this out!  Target has cute, cute printed receiving blankets for $7 a 4 pack!  That's $1.75 per DIAPER! Yes, I said diaper.  Treat it like a flat and fold it like this!  There's no excuses for not knowing how to fold it, because here is a VIDEO!  These are great, because the weave is loose enough to use a snappi and you can always use pins!  Either that, or just lay in a cover and go!
Many of the items you receive on Christmas morning are from larger retail stores with exchange policies that only allow you to shop within their store.  It's harder and harder to actually get your money back, these days, so the key is to be resourceful within the store!  If the items you received did not come from the stores mentioned above, check out the items in that store to see if they're on sale and if they can be used as cloth diapers!  We're not even talking about "make shift" cloth diapers here.  We're talking about cloth diapers that are great, functional, and can even be passed down to the next baby or donated to The Cloth Diaper Foundation!