Big Bible Town Review – Online Bible Adventure Game for Kids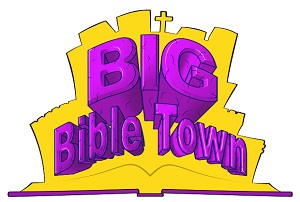 As a homeschooling mom, one of the ways that I have learned to keep my sanity during the day with a 3 and a 6 year old both fighting for my attention is to utilize the technology we have in our home.  We try to take advantage of online and computer based activities as often as we can.  The kids really enjoy it, and it gives me a little time to escape to the bathroom or do laundry!
I recently ran across the CEO of Third Day Games, Bobby Wells, on Twitter, and he asked me if I would like to review Big Bible Town.  It is a Bible based, online game geared for kiddos from Kindergarten to 6th grade.  I have to say, not only do my boys love this game, but I love playing it with them! (So much for laundry, right?)
BIG Bible Town is the first and only online game that immerses K-6 children in scripture-based Bible adventures. Our mission is to help build kids' Christian character by keeping them connected to God's Word and instilling Bible knowledge that will serve them for a lifetime.
One of the great things about this online bible game is it is also right there on the line for preteen, so you can give them an option to their Bible studies by introducing your tween or preteen to this fantastic character building tool to instill Christian values.
Along with their parents (or with their parents' permission) children can sign up for this FREE online Bible based game set back in the 1st Century.  With a free account, your kids can customize their characters,  begin to build their homestead, and play games collecting coins in order to purchase more items for their home!  Once you fall in love with the game, you can either continue to plat for free, or for $5.99 a month, your child will be able to unlock 3 new Bible Adventures a month! The games takes your children through more than 90 different stories of the Bible, and they will learn to navigate by completing tasks and learning valuable, faith based, lessons along they way.
Bible Stories Include:
God Created the World
Adam and Eve Disobeyed God
Noah Obeyed God
Moses and Pharaoh
Jericho Falls
Elijah Talked and Listened to God
Journey to Bethlehem
Jesus was Born
Zacchaeus
and many, many more…
Visit Big Bible Town and register for your child for a free online Bible game account today!  (You will be asked to download a plugin to play the game.  It's perfectly safe!)
Disclaimer – I was not compensated in any way for this review of Big Bible Town, and all opinions of this free online Bible game are my own.