Tropical Traditions Certified Organic Canadian Raw Honey Review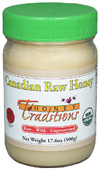 There's nothing better than the taste of  your favorite honey in your tea, or poured on top of your biscuits and pancakes – until you taste Tropical Traditions Certified Organic Canadian Raw Honey.
I've used many different types of local honey for all types of recipes and sweeteners, but nothing comes close to the raw biting flavor of Tropical Traditions.
My family loves this honey.  Just yesterday, we used it, mixed with butter, as a dip for my biscuits, and this morning, I mixed it in with organic orange spice tea.  WONDERFUL.
Tropical Traditions Organic Raw Honey comes from the frontier areas of Canada, and is only harvested during a 6-week period in the summer. Tropical Traditions is the exclusive source of this premium organic honey in the U.S. Most commercial honeys available on the market today come from bee farms, where the bees are controlled within a certain area and get their pollen from usually only one kind of flower. More…
I love that this honey is raw and not processed.  It has very fine textured crystals because it's only warmed to the temperature it would be in the hive to pour into the containers.  It's creamy and smooths, so don't let the word "crystals" fool you!
It's Organic!  How?  Check this out!
In order for honey to be certified organic, the beehives must be placed in isolated areas miles from the dense population, industry, traffic congestion, and farm fields treated with chemicals and landfills. Second, a bee's flying range is determined by their natural instinct which tells them to stay within their natural four mile range from the hive location. Finding area which can be certified organic is extremely difficult, which is why there are so few certified organic honeys on the market. Tropical Traditions sources its honey from hives in the wild frontier areas of Canada. More…
PURCHASE Tropical Traditions Certified Organic Canadian Raw Honey
You can purchase the honey directly from the Tropical Traditions Website. They're having a GREAT sale until Sunday, March 20! Check it out!
GIVEAWAY HAS BEEN CLOSED
WIN a 17.6 oz Jar of Tropical Traditions Raw Honey
Please make sure you post one comment PER entry!  I have an app that automatically chooses the winner from the comments.  You'll definitely want to make sure that you have as many comments (entries) as possible!
Mandatory Entry – Subscribe to the Tropical Traditions Newsletter!  You'll want to.  They're always having sales and announcing great deals! (1 entry)
BONUS Entries
Giveaway ends Tuesday, March 22, at Noon Central. I will use the "And the Winner Is…" plug in to choose a winner.  The winner will have 24 hours to respond to the winning email.
Disclaimer – Tropical Traditions supplied me with this product for review purposes only.  I was not compensated for this post and all opinions are that of my own.