If they had either of these in green… they would SO be mine!
Or maybe in black!  I love this clock! It's made by Umbra, and it's 50% off at Zulily today!
Ok so what about this dress!  I'm not a huge fan of pink, but I know a lot of women are.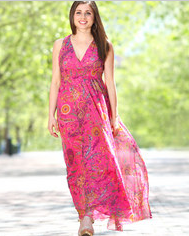 If this one was in green (not the olive color they have on the site, but green-green), it would be mine! Not a bad price at ALL!
Sign up for Zulily today! It's a free, members only deal site for moms and kiddos.  You'll get daily emails with great deals on everything from mom's beachwear to cute little baby socks!  Join Zulily today!