Tropical Traditions Coconut Oil Hair Treatment Review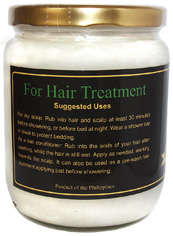 Win Tropical Traditions Gold Label Virgin Coconut Oil for Hair Treatment!
One of the drawbacks to this pregnancy is that I've noticed that I have a really dry scalp.  I guess that goes along with having dry skin as well, but I am not a big fan of going from a great head of debris free hair to a crumbly, dry, itchy scalp.
After using Tropical Traditions Gold Label Virgin Coconut Oil for Hair Treatment I have had great results with keeping my dry scalp at bay.  I love coconut and coconut oil, and another plus is that my scalp not only feels great, but my hair smells great which is fabulous for a pregnant mom with smell aversions!
This particular product is made specifically for hair application because of the slightly higher concentration of proteins as well as the presence of coconut solids.  This is great for those of us looking for natural hair treatments.
For dry scalp: Rub into hair and scalp at least 30 minutes before showering, or before bed at night. Wear a shower cap or towel to protect bedding.

As a hair conditioner: Rub into the ends of your hair after washing, while the hair is still wet. Apply as needed, working towards the scalp. It can also be used as a pre-wash hair treatment applying just before showering.

Excellent for ALL hair types!
I have very thick hair that is full of body and normally pretty oily.  This has been a great product for the drastic change this pregnancy has brought on, and I look forward to using and reporting back it after the baby is born!
Purchase Tropical Traditions Gold Label Virgin Coconut Oil for Hair Treatment from their site! It's actually on sale right now!
---
GIVEAWAY CLOSED
WIN A 1 PINT JAR OF TROPICAL TRADITIONS HAIR TREATMENT!
Tropical Traditions is offering one of my readers their very own jar of Hair Treatment!
Please make sure you post one comment PER entry!  I have an app that automatically chooses the winner from the comments.  You'll definitely want to make sure that you have as many comments (entries) as possible!
Mandatory Entry – Subscribe to the Tropical Traditions Newsletter!  You'll want to.  They're always having sales and announcing great deals! (1 entry)
BONUS Entries
Giveaway ends Tuesday, May 31, at Noon Central. I will use the "And the Winner Is…" plug in to choose a winner.  The winner will have 24 hours to respond to the winning email.
Disclaimer – Tropical Traditions supplied me with this product for review purposes only.  I was not compensated for this post and all opinions are that of my own.