Bumkins Cloth Diapers and Finer Baby Products – $19 for $40 worth! (53% off)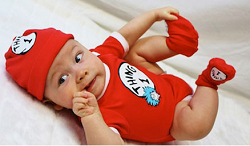 Bumkins Finer Baby Products – Cloth Diapers included!
$19 for $40 Worth of Baby and Toddler Products from Bumkins
Hawk has a Thing 2 shirt from Bumkins!  It's almost too small now.  Great quality and fantastic customer service!  Be sure not to miss this great deal!
Want cloth diapers and babies' and toddlers' clothes and accessories that are good for your child's health and the planet's? 'Course you do. As a bonus, we'll throw in some cool Dr. Seuss designs, too!

Bumkins Finer Baby Products makes bibs (including the award-winning SuperBib), along with bodysuits, jumpers, tees, and more, in a variety of whimsical designs including those from Dr. Seuss classics. Clothes are 100% cotton; waterproof items are lead-free and PVC-, BPA-,
phthalate-, and vinyl-free. Bumkins may be best known, though, for its easy-to-use cloth diapers. Along with being healthier for your baby than chemical-laden, eco-unfriendly synthetics, they're a lot greener, too.

Let's see … designs featuring beloved characters … natural fabrics … no harmful chemicals … fewer diaper rashes and shorter potty-training … we'd say you're a pure winner with this deal!
Join Plum District (It's FREE!), and get in on this great deal! PLUS, get 3 friends to buy this deal, and yours is FREE!