Kushies Swim Diapers – $5.99 | #ClothDiapers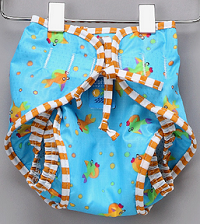 Kushies Swim Cloth Diapers - $5.99 at Zulily!
Your little one is ready for their first foray in the shallow end, but there's nothing like a sopping wet, water-soaked diaper to turn the doggy paddle into a disaster. We love this washable, re-usable and utterly adorable swim diaper that is waterproof on the outside and soft and absorbent on the inside. Tie it on alone for a comfortable, convenient starter swimsuit, or pop it over their diaper for one more layer of protection.
• Shell: 100% nylon
• Lining: 100% cotton terry
• Machine wash; hang dry