LEGO Toy Story Watches 55% (and how to get them FREE) | Buzz and Woody: To Zulily and BEYOND!
So I thought I would mostly be using Zulily for stuff for the new baby… Until today.  My boys are going to go NUTS over these Lego Toy Story Watches!
LEGO Toy Story Watches
You have kids? You know LEGO. The venerable building block brand began in 1932, founded by Ole Kirk Kristiansen in a small carpenter's workshop in Denmark. Today, the company is the world's fourth-largest toy manufacturer, and the name—a combination of the Danish words for "play well"—is known and loved around the world.
55% OFF!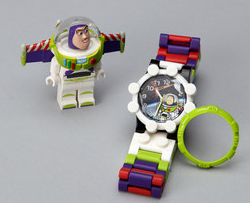 Want to get one of these watches for FREE?  Sign up for Zulily and send your referral link to all of your friends.  When one of them buys something, you'll receive a $15 credit toward your next Zulily purchase!
My only concern now… Do I get one of each, or both the same so the boys won't fight over them?? Hmmm…