Evenflo SimplyGo Breast Pumps – Up to $15 off! | Zulily Deals
 Evenflo SimplyGo Breast Pumps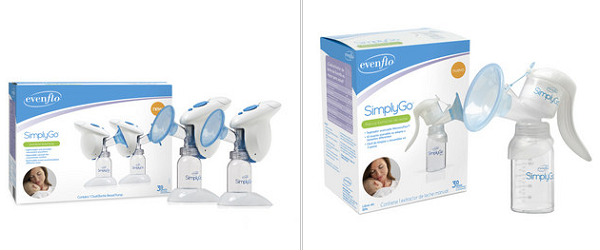 (You'll find these on Zulily under Evenflo, however the photo is of a woman wearing her baby in a camo carrier.) 
SimplyGo One-Hand Manual Breast Pump
This handy manual breast pump is easy to grab and go. The compact size allows it to easily slip in to purses and day bags so that you're able to use it whenever you have a moment. The manual control allows you to regulate cycle speed for your level of comfort.
Streamline your feeding routine with the SimplyGo Dual Breast Pump. With two pumps you're able to fill bottles in half the time so you can spend more time tickling tummies and less time sitting by a power outlet. The handy cooling bag, ice packs and tote make it easy to take the system on the go and keep milk cool and safe for later.
If you haven't checked out the Evenflo 3am feedings video, you should!  It's hilarous!