Retail Therapy Review – Eco-Friendly, Organic, and Recycled Tees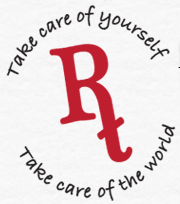 We can all use a little retail therapy here and there, but did you know that there's an actual online store called Retail Therapy, and it caters to natural families like yours and mine?
Another really awesome tidbit – Retail Therapy tees are sold at a couple of brick and mortar stores, including  The Little Seed, which is co-owned by none other than Soleil Moon-Fry – YES! Punky Brewster!  She's a tree-huggin' mama, too, as if we didn't think she would be!
Right now, I'm looking at the coolest clothing tag EVER.  Ok wait, that's not the main focus – I'll get back to it!
Started by a shrink and a stylist, Retail Therapy provides the latest in "feel good" apparel and accessories. Our motto "take care of yourself, take care of the world" inspires us to be organic, recycled, and earth-friendly in our products. We support good causes by donating a percentage of profit to reputable charities. Retail Therapy products are ones you can feel good about buying, wearing, and using.
I was very excited when Dr. Jenn Berman sent me this extremely adorable and beautiful quality onesie to review for the new baby!  It's so soft and washed up very well to get ready for baby Rosengurtle's arrival.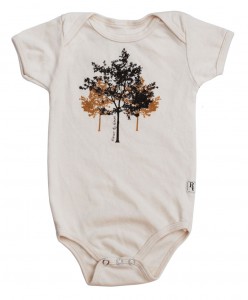 Nurture My Nature Onesie
Nature or nurture? Inspired by the statement "I speak for the trees!" in The Lorax this onesie speaks to both the nature outdoors as well as your child's nature, or temperament. Let your child speak for the trees in this natural colored onesies with trees in chocolate brown and beige.
Made of 100% organic cotton
Silk screened with non-phthalate water-based inks
Prewashed so it won't shrink.
Organic cotton "RT" logo tag
Comes with our famous seed embedded hang tags that are made from post-consumer waste. Plant it and you will grow wildflowers.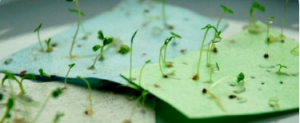 Ok so speaking of the "famous seed embedded hang tags"… this is the above mentioned coolest clothing tag ever!
After removing the seed-embedded tag, please place it in soil and water it.  With a little time and light, FLOWERS WILL GROW!
You can purchase Retail Therapy product at the following places:
The Little Seed - Los Angeles, Ca.
Riginals – Los Angeles, Ca
 Disclosure – I received the above baby onesie from Retail Therapy in exchange for my review of the product. I was not compensated for this post, and all opinions are my own.