@SubwayFreshBuzz Oven Crisp Chicken $25 GC Giveaway | #ChangeYourChicken
 CHANGE YOUR CHICKEN!
Have you tried the new Oven Crisp Chicken from Subway?  If you haven't, tonight's the night to hop to it!  We're sooooo fortunate to have a Subway at both ends of our subdivision!  The closest one is 8 blocks away!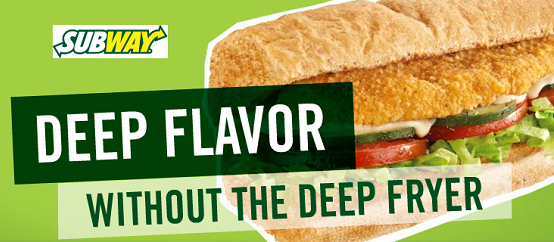 Being pregnant and settling back into back-to-school, nutritional foods are constantly on our minds here at the Johnston home.  It's not always easy to find time (or the energy) to cook around here, but with days of 106° or more temperatures, we like to grab food to go a heat up someone else's kitchen!
Subway's Oven Crisp Chicken is baked, never fried, making this delicious offering low in fat and calories, and high in flavor.  With just 7 grams of fat, this delectable new sandwich is part of the SUBWAY Fresh Fit Menu for a limited time.
HURRY! Deep flavor, not deep fried – available from August 15 through September 30!
For a very limited time, try the guilt free fresh fit Oven Crisp Chicken!  We love it here!  I like to add fresh veggies and the new addition of avocado for a most healthy meal!  (FYI – Avocados at 36 weeks pregnant adds fantastic nutritional value with omega-3s!)
---
Here's a little boost for you from Between the Kids and Subway!
WIN A $25 Subway Gift Card!
Subway will be giving one of my readers a $25 gift card to help you get back on the right track with eating fresh and more healthy!

Main Entry: Truthfully?  What has been your favorite all time Subway Sandwich? (1 entry)
Additional Entries (post an additional comment per each entry)
#Win $25  @SubwayFreshBuzz GC for Oven Crisp Chicken #Giveaway, by @betweenthekids and #ChangeYourChicken http://wp.me/p1cgPs-T9 Pls RT! (9/2) 
(1 entry per tweet, unlimited entries)
(Please make sure you leave 1 comment per entry!)
**US Residents only – Giveaway winner will be chosen via the "And the Winner Is.." application on BetweentheKids.com on Friday, September 2, 2011  at Noon Central.
Disclosure:  Subway provided me with a $25 gift card to Subway to review the Oven Crisp Chicken along with the one being given away to one of my readers.