I know this is a family friendly site, but even friendly families like a good horror flick!  I know we do!
This is a FANTASTIC deal!  Each movie is just $4.37 each!!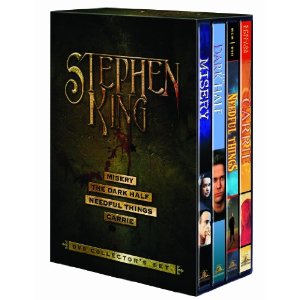 Stephen King DVD Collector Set 
Comes with all 4 movies:
Misery
The Dark Half
Needful Things
Carrie
List Price: $29.98
Price: $17.49
You Save: $12.49 (42%)
Eligible for FREE SHIPPING!
Product Description
Disc 1: CARRIE SPECIAL EDITION Disc 2: NEEDFUL THINGS Disc 3: THE DARK HALF Disc 4: MISERY