Sassy Baby Products *Great Gifts* | Sensory Balls, Wonder Wheel, Grow Up Cup Review | #giftguide
We haven't had a baby in the house for quite some time.  Sure, Hawk is 4 (almost 5 oh.my.gosh.), but he was supposed to be our last, so we got rid of everything he outgrew, including toys.

Jett is only eight weeks old, right now, but he's pretty mouthy!  No, not the way tweens get with the back talking (yet), haha, but he's getting to the point where he is pulling things to his mouth when handed them.
Sassy Baby Products is a great place to get toys and gear for babies of any age.

I really love the Sensory Ball Set!  Although he can't really grasp the balls, right now, Jett loves to look at them and mouth them when we hold them close to his face.  Of course, his two older brothers want to play catch with him pretty badly, but he's not quite there yet!  But watch out MLB, because he'll be catching them before you know it!
High-contrast patterns help promote development of baby's vision.
Graspable areas allow baby and parent to shake toy and introduce rhythms.
Different textures provide variation to the play experience.
Set of 3 balls: 1 plush, 1 hard plastic with rattle, 1 soft textured plastic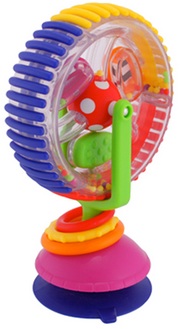 Another great product from Sassy is the Wonder Wheel.  Now, although this toy is geared for ages 6 months and up, Jett loves it!  He loves noise makers and he's fascinated with things that move.  This is going to be a toy that's around for a long time.
Cascading beads capture baby's attention
Spinning wheel engages the concept of cause and effect
Great for highchair
I guess I should also add that my four year old is also enamored with this toy!  What is it with boys and noise makers?  It is pretty cool, though!  The design is awesome.
Like Sassy Baby Products on Facebook
Another great product to add to your gift list this year is the new Grow Up Cup.   This cup is GENIUS (said in my highest sing-song pitch).  It's not like a regular sippy cup with a spout.   Your little one will be able to drink just like a big kid, but there's no mess!  Because I can't quite put this awesome cup into words, check out this video!
Revolutionary 360° design – sip 360° around the rim with no spout or straw!
Helps toddlers move up to an open cup
Available in 7 oz., 9 oz. and 12 oz. sizes

Both the 7 oz. and the 12 oz. sizes are available in a single pack
9 oz. cup is available in convenient double packs

Easy grip handles (sold with 7 oz. cups) can be removed and used with each cup size
Patent pending
Available exclusively at Babies 'R' Us
This is yet another product my four year old loves!
Check out all of these great products in our Holiday Gift Guide!
Disclosure:  I was given these products by Sassy in exchange for my honest review and inclusion in our Holiday Gift Guide.  All opinions are my own.  I was not compensated for this post.