BabyGanics Alcohol Free Foaming Hand Sanitizer 56% off | Amazon Deals
BabyGanics – The Germinator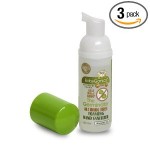 Great deal, right now on BabyGanics Alchohol Free Foaming Hand Sanitizer On-the-Go!
My mother-in-law gave me a BabyGanics set when Jett was born, and I LOVE this stuff.  I love this hand sanitizer because it doesn't leave my hands dry or sticky, and it doesn't have any fragrances!  After I change Jett's diaper, I am ok with cleaning my hands with BabyGanics, picking him up, and not worrying about strong scents or skin irritations when I touch his skin.  I'm also not worried about what chemicals are going into his mouth when he starts gnawing on my fingers!
Amazon: Pack of 3 – 1.69-Ounce Bottles
List Price: $15.30
Price: $8.97 ($1.77 / fl oz)
Subscribe & Save $7.62 ($1.77 / fl oz)
You Save: $7.68 (56%) (with Subscribe & Save option)
Also, January-Feburary, all BabyGanics products will be Buy One Get One FREE at Walgreens!