Monopoly Deal – Great Game for Preteens and Teens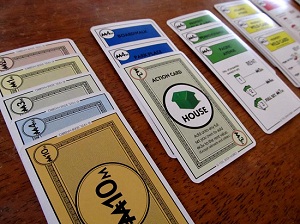 Are you looking for a new, fun, game to play with your preteen?  Look no further than Monopoly Deal.  Before Christmas, I won this game from a giveaway on The Mama Report, last year, and this has been a go-to game for us just about everyday!
The object of the game is to get three full property sets to win, but Kylie and I take it a step further.  This game can be fast paced (and quickly over, if you're looking for something fast!), so what we do is keep score by adding all of our accumulated money and properties together at the end and playing to 700.  It can take us 3 or 4 days to get there, but we have a lot of fun.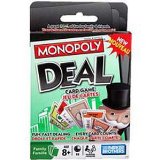 Andy even likes to play Monopoly Deal!  Word of advice, though, don't throw away the rules (we spilled water on ours and didn't know it, so they stuck together and ruined!).  BUT, if you do throw them away, we found some really cool guys with a great explanation (Warning: Some of the reviews and explanations on YouTube are very dumb – watch out for the guy with the sombrero.  You might think it starts out good, but it gets really silly and goofy.)!

If you're in the market for a fun game for your preteen or teen, check out Monopoly Deal!