Pambra's Breathable Bra Liner Review | Great for Pregnant or #Breastfeeding Moms!
Very rarely do I come across a product that I deem as a true must have, however, recently, I was given the opportunity to review a fantastic product called Pambra's, that is not only a must have, but it's a MUST HAVE NOW!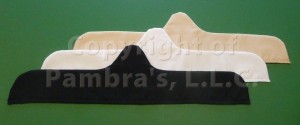 The not-so-pretty part of breastfeeding (and let's face it, being overweight with big boobs!), is that I sweat under my breasts.  Not only does it cause an uncomfortable, unpleasant odor, but for some people, it can also cause yeasty rashes as well as problems with bra elastic irritation.  The Pambra's Breathable Bra Liner is a great way to eliminate all of these discomforts.
I recently had a bout with a breast infection, and when I went to my midwife's office to have it checked out, the first thing she noticed was the liner I had under my bra.  I explained how the Pambra's Liner worked, and she was so impressed, she asked me for the brand!  (Who knew that I would be a walking model for an undergarmet liner!!)
I will definitely recommend Pambra's to my friends, family members, and doula clients!  This is a fantastic product for all moms, including those pregnant and breastfeeding!  (They also offer washable breastpads!)
The Pambra's Bra Liner is so easy to put on, it actually takes less time that putting on your actual bra.  Check out this video that shows you how to put on the Pambra's Bra Liner in just a few seconds!
Pambra's are reasonably priced and sold in packages of three, one color per package.  They are machine washable and dryer safe.
Available in White, Nude, or Black.
| | | |
| --- | --- | --- |
| Pambra's Size | Bra Band Size | Pambra's Length |
| Small | 34-36 | 14" |
| Medium | 36-38 | 18" |
| Large | 38-40 | 26" |
| X-Large | 42-46 | 30" |
| XX-Large | 48-50 | 36" |
Actual fit will depend on how far you want the liner to go across the rib cage.
Visit Pambra's Wesbite for more information!  Buy online or in select stores!
Disclosure:  I was given a set of 3 Pambra's Bra Liners in exchange for my honest review.  I was not compensated fro this post.  All opinions are my own.