GroVia is giving away 1,000 FREE Diapers for The Great Cloth Diaper Change – #gcdc2012
Are you headed to the Great Cloth Diaper Change in your area on April 21?  If so, GroVia has an AWESOME offer going on!  Check out the details below!  I will definitely be changing my baby into a GroVia diaper with my phone in hand ready to snap a photo of his bottom with a cute little GroVia on it!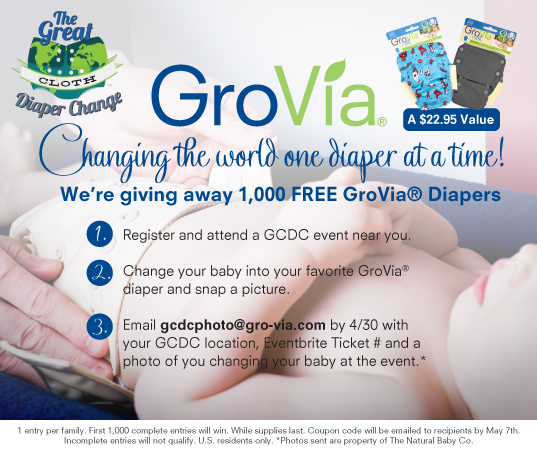 Register and attend a GCDC (Great Cloth Diaper Change) event near you
Change your baby into your favorite GroVia® diaper and snap a picture.
Email gcdcphoto@gro-via.com by 4/30 with your GCDC location, EventBrite or Registration Ticket #, and your photo of you changing your baby at the event*
If you're one of the first 1,000 to do so, you will receive a coupon code for a FREE GroVia diaper!
*1 entry per family. First 1,000 complete entries will win. While supplies last. Coupon code will be emailed to recipients by May 7th. Incomplete entries will no qualify. U.S. residents only.
*Photo entries are property of The Natural Baby Co.
Find The Great Cloth Diaper Change location nearest you!
Find the Houston Area GCDC location nearest you!
Don't forget to RSVP!