Day 4: Flats and Handwashing Challenge – #flatschallenge #clothdiapers
One of the things that we were discussing yesterday on our local Flats & Handwashing page is how, for the most part, we love the challenge, and we'll more than likely continue to use flats.  While the handwashing part isn't all that bad, it's the general consensus that we'll probably stick to our washers and dryers once we're done!
I definitely don't mind handwashing right now, for this week, but once it's over, it will be nice to have a break.
I am thankful that I have a washer and dryer for the days that I just don't have much time, but I have a great appreciation for those who cloth diaper without a washer and dryer.
A dear friend of mine washed and dried all of her diapers by hand for years.  Looking back, I wonder if she knew how easy it was to use flats?  It really is a lot of fun.
Although I don't envy those with little ones who have stinky, not EBF poops, I have to say that the slimy EBF poop is so hard to get off of diapers with the soft water that my parents have at their house!  It's kinda like when you wash your hair in soft water, and you feel like the soap or conditioner will never come out?  That's what the flats feel like.
It's easier for me to wash in the sink than it is for me to lean over the tub.  I prefer to use the upstairs bathroom sink, because it's out of the way, and I don't have to worry about stepping on toes or offending anyone with dirty diapers in the kitchen!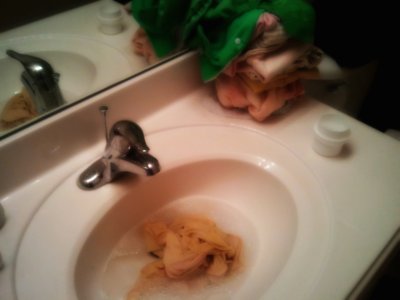 Because they're not huge, it doesn't take that long to wash a flat in the sink (I can even wash 2 at a time if I'd like) if there's no poop.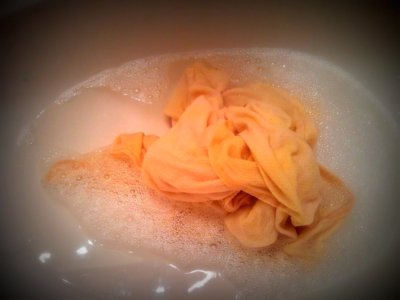 It was so windy outside today, I totally could have put these outside, but the sun was already going down, and I didn't want to have to hunt around for the diapers in the dark if the wind blows them away!  So, I decided to hang a few in the bathroom: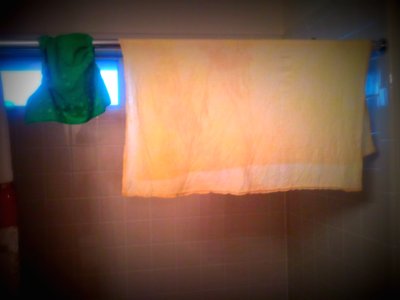 I also decided use the hanger thingy in the laundry room.  I'm not fond of hanging things in the house because it's so humid here in the Houston area that I always seem to have sour smelling clothes or diapers when I hang them in the house, but at my parents' house, there is a vent right above this hanger thingy.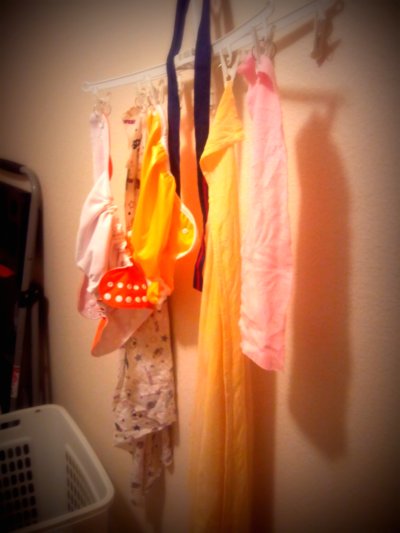 The major thing that I don't like about air drying diapers is the hard feeling you get with air dry.  I guess I need to figure out how to soften them up without using a dryer!
Today's Diaper Line-up (Origami & Kite & Pad fold with fleece stay dry liner):
Green & White Striped Receiving Blanket | Green Flip Cover
Birdseye Flat dyed in Turmeric | Green Flip Cover
Sports Balls Receiving Blanket | Yellow Green Bees Cover
Yellow Receiving Blanket | Green Flip Cover
Birdseye Flat dyed in Turmeric |  Cotton Cheeks Orange Cover
Birdseye Flat dyed in Turmeric |  Cotton Cheeks Orange Cover
Birdseye Flat dyed in Turmeric | Cotton Cheeks Orange Cover
Birdseye Flat dyed in Turmeric | Wool Soaker
Night – ImseVimse Receiving Blanket with Birdseye Flat Pad Fold | Wool Soaker  (this works WELL!)
I am taking part in the Second Annual Flats and Handwashing Challenge hosted by Dirty Diaper Laundry.  For 7 days I will be using only flat cloth diapers and handwashing them in an effort to prove that cloth diapering can be affordable and accessible to all.  You can learn more about the rules and why this challenge was started by visiting the announcement post.  This year there are over 450 participants from all over the world!