Day 7: Flats and Handwashing Challenge – #flatschallenge #clothdiapers
Yay!  We made it through seven days of flat cloth diapers and handwashing and drying.
It's been a long week, but that is totally unrelated to diapering!
The main thing that I've learned during this old school week of diapering is that it's not really that hard.  Although I see why cloth diapers have evolved into the modern styles that we have, I also see that if we didn't have a choice, flats aren't really that bad!
Here are a few things that I've learned during this week.
Flats are fun, and we'll probably use them a lot more often!
Make sure that you pay attention to the detergent you use while handwashing.  You don't want to use too much, but you also don't want to use too little.  Just because you're not using a machine, make sure you're using enough detergent to get the diapers clean.
More water is better.  I've seen a few posts that state that the diapers have burned their baby's bottom, or they smell strongly of urine when wet.  Make sure you're using enough water to rinse the diapers completely of all of the urine AND detergent!
The origami or kite fold along with a pad folded flat and a wool soaker is PERFECT for nighttime.
Fleece strips for stay dry lining is a MUST with my child and flats.
Anyone can cloth diaper – no matter your financial status or washer/dryer status!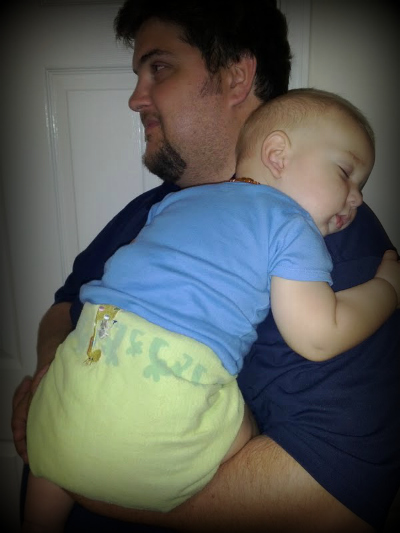 I wish these blankets had the cute designs in the middle so they show the right way!
I apologize for the shortened posts for this challenge.  I fully intended to go all out this year on the posts, but due to the move, I'm thankful that I'm able to participate in the challenge like I pledged to do, and I promise that next year (or even after we get settled), I'll do a better job at showcasing photos of flats and folds!
Thank you for following along, and I hope that you will give flats a try!!
I am taking part in the Second Annual Flats and Handwashing Challenge hosted by Dirty Diaper Laundry.  For 7 days I will be using only flat cloth diapers and handwashing them in an effort to prove that cloth diapering can be affordable and accessible to all.  You can learn more about the rules and why this challenge was started by visiting the announcement post.  This year there are over 450 participants from all over the world!