Day 2: Flats and Handwashing Challenge – #flatschallenge #clothdiapers
Day two of the Second Annual Flats and Handwashing Challenge went much like day one!!
I was able to get yesterday's set of dirty diapers washed this morning when the water was back on, and started on my way to a day of flats and covers again!
Low and behold, right after dinner tonight, the SAME thing happened with the water!  All of a sudden, there was very little water pressure, and we had to wait forever for just enough water to get about an inch worth to bathe the boys!  I guess I will be washing today's set in the morning as well!
When I did the trial run, not too long ago, I washed the flats after every two or three diaper change.  With so much going on, it's been way too hard to wash them during the day, so I've had to do them all at one time!  (Except for the one blowup he had today!  I washed that immediately!
One of the things that I have realized during this flat challenge is that I'm using a whole lot fewer supplies than I do when I am using my modern cloth diapers.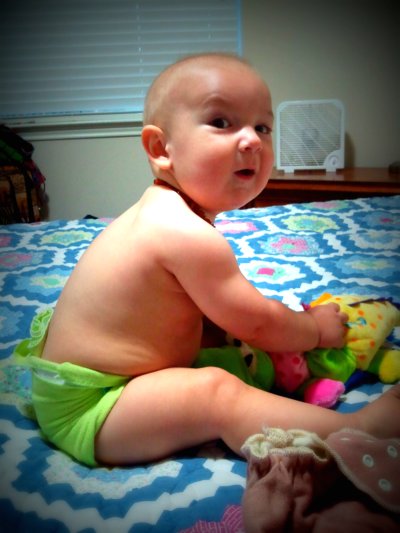 Supplies I am using during the flats challenge:
Flats or Receiving Blankets
Fleece Liners
Snappi
Covers
Wipes
Pail
Detergent
Water
Supplies I normally keep on hand to use:
Diapers
Liners
Inserts
Doublers
Snappi
Covers
Wipes
Wipes Solution
Pail
Detergent
Washer
Dryer
 If I'm out an about, I usually add a wetbag to this mix.  What's really cool, though, is I've noticed that when I need to pack a bag, there is a lot less bulk than if I add AIOs or Pockets because I normally add a cover or two as well.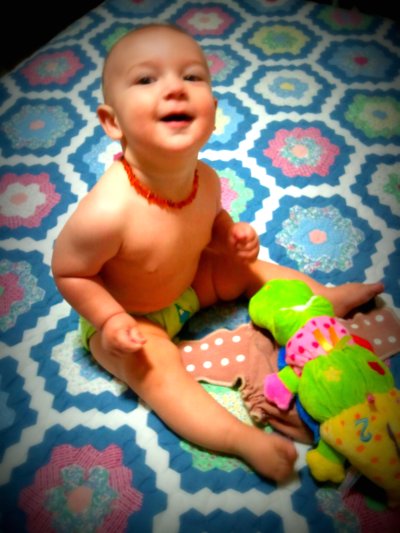 He actually peed through this green receiving blanket flat (on me) before I was able to get the wool cover on!!
Today's Diaper Line-up (Origami & Kite fold with fleece stay dry liner):
Birdseye Flat dyed in Turmeric | Pull on Wool Shorties
Green Receiving Blanket (pictured) | No cover!  Peed on me!
Light Yellow Receiving Blanket | Wool Cover
Hearts Receiving Blanket | Wool Cover
Birdseye Flat dyed in Turmeric |  Wool Cover
Pastel Receiving Blanket | Cotton Cheeks Orange Cover
Birdseye Flat dyed in Turmeric | Cotton Cheeks Orange Cover
Night – ImseVimse Receiving Blanket with Bird's Eye Flat Pad Fold | Wool Shorties
I am taking part in the Second Annual Flats and Handwashing Challenge hosted by Dirty Diaper Laundry.  For 7 days I will be using only flat cloth diapers and handwashing them in an effort to prove that cloth diapering can be affordable and accessible to all.  You can learn more about the rules and why this challenge was started by visiting the announcement post.  This year there are over 450 participants from all over the world!