Blissful Booty Perfect Pockets Review & Giveaway | #ClothDiaper (ends 7/6)
One of the very first diapers that I ever received when Jett was born was a Blissful Booty AIO newborn diaper.  It was also the first diaper that was ever put on his bottom.  In hindsight, I wish I would have asked the photographer to get a photo of his diaper, rather than waiting until he had his clothes on!  I've thought about this for eight months!
Now that he's eight  months old the newborn diapers have been passed on to a new baby and I am now able to get a good fit on one size diapers.
With Braxton and Hawk I was never a big fan of pocket diapers; that was until Jett came along. Now I find myself reaching for pockets because they are extremely versatile and much faster to wash and dry.  Blissful Booty Cloth Diapers are great if you're ever in a situation where you need to hand wash and air dry your diapers.
I love the Blissful Booty pocket diapers because they not only look absolutely adorable on my little man but they have a fantastic fit as well.  We have not had any leaking or wicking issues with the Perfect Pockets, and we've not had any washing issues with them either.  They look just as good as they day they showed up in my mailbox.
The bamboo inserts are super absorbent, and they are so soft that I can use them in the pocket or just lay them in and use the diaper like a shell or cover (which is a huge plus for me!).  The more you wash them, the more absorbent they become!
Blissful Booty diapers hold in messes fabulously because of the inner AND outer leg casings.  I also love the front elastic feature for not only a better fit, but to help prevent leaks as well!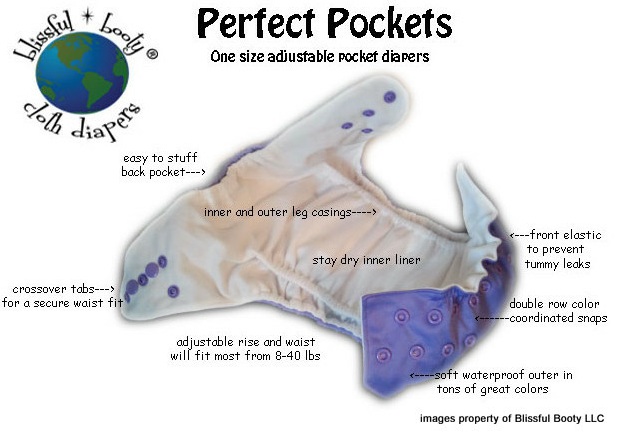 One of my favorite features of the Blissful Booty Perfect Pocket Diapers is that they are affordable, which is so important to many families who use cloth diapers.
Polyester w/ PUL – $16
Minkee w/ PUL – $17
Bamboo Inserts – $5
Microfiber Inserts – $3.50
You can enter for a chance to win a Blissful Booty Perfect Pocket Diaper for your baby!  All you have to do is enter below for a chance to win your choice of aplix or snap diaper!
Disclosure – I was given two Blissful Booty Perfect Pockets diapers for review purposes.  I was not compensated for this post, and all opinions are my own.