Activity Sketchbooks Four-Pack – 72% off | Groupon.com #homeschool
I remember I used to love playing on these things when I was a kid.  It's a great way to teach your little one how to write, draw, and recognize numbers, letters, and shapes!  Fun for beginner homeschoolers!
$19 for Four-Pack of Bright Sparks Activity Sketchbooks ($67.80 List Price)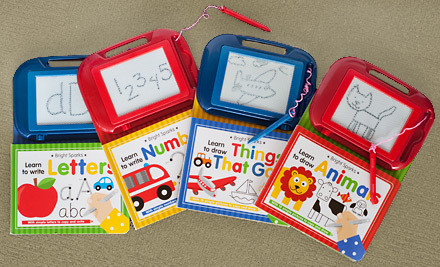 The Deal
$19 for a four-pack of Bright Sparks children's activity sketchbooks ($67.80 list price). Each pack includes:
How to Draw Animals
How to Draw Things That Go
How to Write Letters
How to Write Numbers
An additional $3 shipping fee will be charged at checkout.