Cricut Craft Cutters – up to 53% off | Groupon #crafty Deal #crafter #crafting
I'm kinda crafty. Just kinda.  I'm really too lazy to be really crafty, or I'd probably be really good at it.  Since I've moved into this house, the possibilities of decor,  paired with Pinterest have me totally wanting to be an awesome crafter!
Check THIS deal out!
Reconditioned Cricut Bundle or Cricut Cake-Mini Bundle (Up to 53% Off)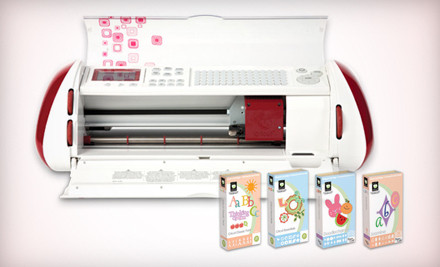 The best gifts are ones made by hand, which is why the best parents present their 16-year-olds with a car they welded together themselves. Start on a simpler project with this Groupon.
Choose Between Two Options
The craft-cutting bundle snips sundry materials ranging from vinyl, vellum, fabric, chipboard, and thin foils in a number of sizes starting from 3/4-inch to 23.5-inches. Added features include auto fill and quantity which allow for batch creations as well as the fit to page option that helps create easy maximization of the size of your image.
Cricut home-crafting machines help crafters fashion elegant cakes with intricate designs or create paper cutouts for craft projects.