What's in your Diaper Bag? | Join the Blog Hop! #babies #clothdiapers #bloghop
Wow, up front, I'd like to apologize to the nursery workers at our church for the overabundance of stuff in Jett's diaper bag!  I JUST posted on KellyWels.com about the Simple Etiquette of Daycare or Nursery Cloth Diapering.  I guess I never really paid attention to the actual diaper bag!
I was looking for a specific diaper, and the more I found in the bag, the more I realized that whomever gets a diaper and wipe out of this bag knows pretty much everything there is to know about me!  It's actually little embarrassing!!!
Looks pretty normal from this angle, right?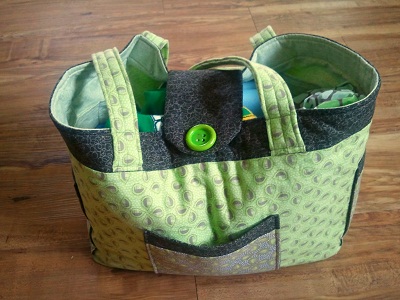 What about now?  At first glance, there's nothing bad.  You see a diaper, some shirts, a wetbag.  Normal.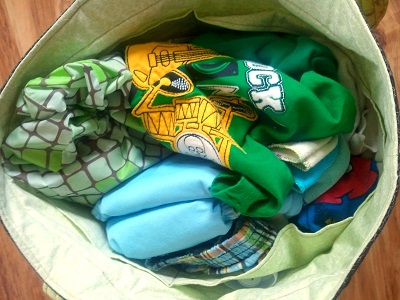 After I dumped it all out, I'm like… "what the heck?"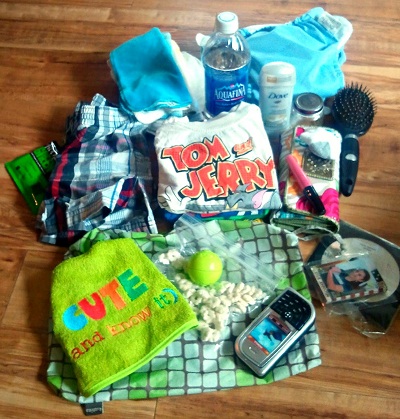 Diaper Bag Contents:
2  bumGenius diapers
2 pair of shorts
11 cloth wipes (overload for the whole 2 diapers in the bag!)
Rockin' Green Sample (you know, in case they need to wash the 2 diapers to go with the 11 wipes)
Hair Brush
Coconut Oil
Deodorant
Water Bottle (this is to be paired with the wipes in case there's no faucet around)
5 shirts (overkill?)
1 pair of socks
Baby spoon
Kylie's softball trading cards (from 4 months ago?)
Kylie's softball photo CD
Wetbag (which has contents of it's own)
Wallet (that I haven't used since I got my Capsul Case, but it's still got all kinda stuff in it!)
Lipgloss
Wetbag's Contents:
a bib
a ball
organic puffs
Jett's cell phone
I think I need to tidy it up a bit!  No wonder I keep thinking I need a bigger bag.  I just kinda need to downsize!
Now, join in on the fun and let me know what's in your diaper bag!