Breastfeeding – 13 of my Favorite Products | World #Breastfeeding Week
In honor of World Breastfeeding Week, here are some nursing products that I think are super cool!
Ina May's Guide to Breastfeeding - Anything Ina May writes is informative so helpful to women!
Earth Mama Angel Baby Booby Tubes - These are great for those times that you have discomfort.  Breastfeeding doesn't have to hurt, but there are times that it can get uncomfortable.  Earth Mama Angel Baby is great for helping women feel good.
Milkies Milk-Saver - Are you a leaky mama but believe that every precious drop of milk is liquid gold?  Milkies Milk-Savers can help you not leak through your clothes, and also save the milk that you leak.
Lansinoh Soothies Gel Pads - These were great for me when I was going through my breast issues.  "Soothies" are right.  They definitely sooth the pain. I love and recommend them to anyone.
Motherlove Herbal Nipple Cream - This stuff is great. I've used this as a nipple cream, lip cream, diaper ointment, and so much more.
Simple Wishes Hands-Free Breastpump Bra - There are many different kinds of these double pumping bras out there.  Although I've never had one, I think they're pretty cool for moms who are busy and want to be able to pump both breasts at one time while actually having a free hand.. or two!
Nursing Cover - Not everyone chooses to use a nursing cover, and that's great.  However, it's awesome to have options for moms who want to be covered up while nursing their little one.
Lansinoh HPA Lanolin - Just get some.  Every nursing, and non-nursing mother should have some.  It's good for so many things.  Great overall ointment.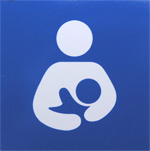 Earth Mama-Angel Baby Natural Nipple Butter - Again, EMAB for the win!
Nature's Way Fenugreek - This stuff will help boost your milk supply while giving you this awesome aroma of syrup.  I love Fenugreek!
Sterling Silver Nursing Mother Necklace - Go ahead and take a look at this beautiful necklace.  LOVE.
Bamboob-ease Soothing Therapy Pillows -  More cool.. or warm.. breast pillows for comfort before and after nursing.
International Symbol for Breastfeeding Sticker –  I have a green one that I need to put on my Milk Mobile.