FINALLY! A call center that actually know what you're calling about! | Global Response
Have you ever thought about who you're talking to on the other end of the phone when you call a  major business to make a reservation, file a complaint, or ask a question?
Most of the time, conversations are smooth sailing, and you're off the phone before you know it with a positive result. For instance, not too long ago, I had to call ThinkGeek about an order I totally screwed up.  The person on the other end of the phone was extremely polite and  knowledgeable, and we got things figured out and on the right track.
There have been many times that I've called customer service for different companies, and I want to beat my head on my desk, because they have absolutely no idea what they're talking about OR I can't understand a word they say.
Last week, Andy had to call our internet/phone company and he was on the phone for over an hour with them to get a $145 service charge taken off of our account, because the guy actually never stepped foot into our house when he should have!  He had to be transferred several times before actually getting a supervisor who agreed with him and dropped the charge.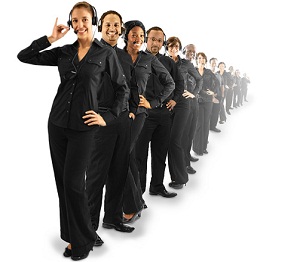 Most of the time, businesses contract out call center companies to handle their calls for them so that they can make sure their representatives have the best training possible to handle any situation that comes over the phone lines.  ThinkGeek is one of those businesses.
What about the times that you would rather not call, but you click the little "Chat Now" button on a company's' website?  Most of the people on the other end of the chat support screen aren't actually sitting in an office at your favorite company's headquarters. They are usually employed by highly respected companies like Global Response who is contracted out to handle a company's customer service needs.
I've often wondered how this actually works, because they usually know how to answer most questions asked.  They're not like telemarketers who have a screen in front of them with a script.  They actually have training classes for each client that teaches their specialists how to conduct themselves during a call tailor made for that company.
Does that mean that they're going to always know how to fix your problem?  Probably not.  The good news is, I've had to contact various businesses on the Global Response client list, and I've never had a negative issue  with them.  Kudos to a company who knows how to not only educate their employees thoroughly, but care about the customers to know that we want to chat with someone who knows what they're talking about!