DIY Non-Skid Baby Socks Tutorial
The weather is getting cooler (even for Houston) and I decided, yesterday, to go get Jett some socks.  My mom suggested that I get the non-skid socks.  After doing a price comparison, they were so much more expensive than regular socks, so I decided to buy plain socks and make some DIY non-skid baby socks.
I prefer socks that aren't completely white so that no one can tell just how dirty my floors are, so I get the
Fruit of the Loom
brand with the gray bottoms (approximately $5 for a 6 count at Walmart).
What you need for DIY Non-Skid Baby Socks
1 package of baby socks (about $5 at Walmart)
1 tube of puffy paint (about $1 for small tube at Walmart)
If you already have socks around the house that you'd like to make non-skid, that's perfect!
Find something like a small bottle of oil or a larger spice shaker to use as a "foot" to put the socks on.  You could even use cardboard or plastic if you'd like.  You'll want to make sure that something is inside the sock so that the paint doesn't bleed through.
Use the puff paint to make whatever design you'd like on the bottom of the socks.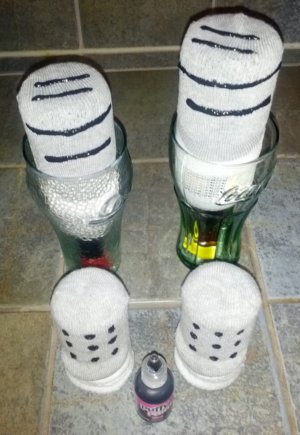 You'll want to first use the tip of the paint tube to make sure that the paint is pressed slightly into the sock so that the paint doesn't easily peel off. Then, go back over the design to make sure there is some paint that is puffed up to act as a gripper.
Make sure you wait for the paint to completely dry (at least 4 hours).  For the first wash, wash and dry the sock inside out to seal the paint.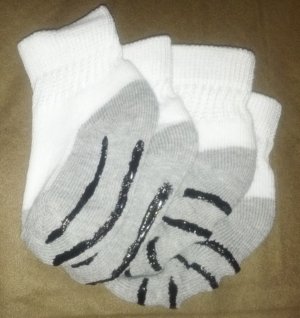 This is a great way to be creative and save a little money at the same time!