FRANKENWEENIE Memory Cards Game | #frankenweenie
I can't wait to see this movie!  I love it when titles are play on words and names.  Download this fun Frankenweenie Memory Cards Game for your little ones.  Braxton is a pro at memory cards, and he's going to love these!
Click on the image below to grab the PDF to download.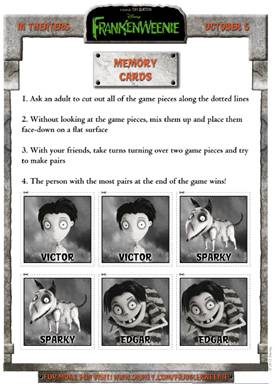 In Tim Burton's "Frankenweenie" young Victor conducts a science experiment to bring his beloved dog Sparky back to life, only to face unintended, sometimes monstrous, consequences.
FRANKENWEENIE
DISNEY