Vtech Switch & Go Dinos Review & Video Contest
It's pretty much common knowledge.  Boys love dinosaurs, and boys love vehicles.  It was a pretty safe bet to say it was a brilliant idea to do a Vtech Switch & Go Dinos Review!  My boys were thrilled when the huge Vtech package arrived, and they have spent hours playing with their dinos!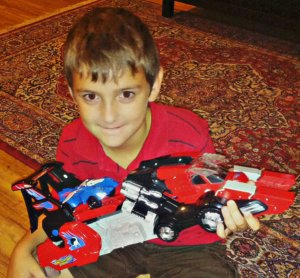 We received two dinos for the boys.  We gave Braxton the Brok the Brachiosaurus Dinosaur and Hawk staked his claim on the Span the Spinosaurus Dinosaur.
Hawk loves it when he transforms Span from the plane to the dinosaur he says "My name is Span.  Nice to eat.. I mean meet you!"
Braxton likes that his dino is so big, and he likes having the additional race car and Pterodactyl that comes with Brok.
I am a big fan of the fact that they are so easy to transform.  They are extremely sturdy, and even though they talk and make noise the entire time the kids are playing with them, they're not loud and obnoxious at all. (Score!)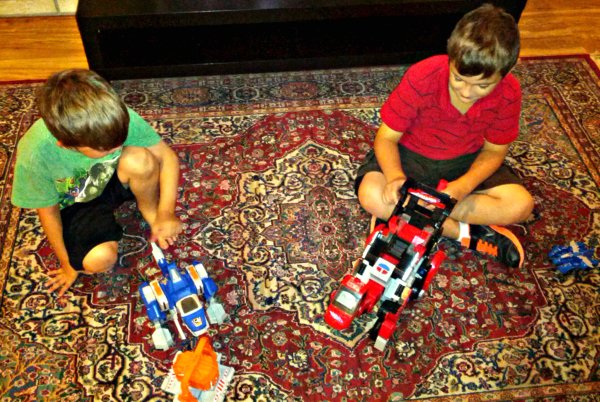 Features
2-in-1 toy easily transforms from a dino to a vehicle and back again
Features over 70-80 wild sounds and phrases
LCD screen plays cool dinosaur and driver animations (Brok)
LCD screen plays cool dinosaur and pilot animations (Span)
Talk button plays fun phrases and dino facts
Brok includes race car and launching Pterodactyl
Span includes baby dino, cage, rescue lift, and four food discs
Realistic sounds and cool graphics
Vtech is having a Switch & Go Dinos Show & Tell Video Contest!  The great news is, your child doesn't have to own a Switch & Go Dino to enter!  Check out the deets below!
Grand Prize – A lifetime supply of Vtech toys PLUS a chance to see your video in a Vtech commercial which you can watch at your very own veiwing party in your very own Dino Den (which is your living room transformed by Vtech)!!
Enter by October 1.
Upload a 30 second video of your child's dino creation (draw or build a dino or customize a Swith & Go!)
Share your entries with friends.
Check back on October 8-19 to vote for the top 10.
Everyone who votes on the top ten starting in mid-October and submits their email address will be entered into a sweepstakes to win one of 25 sets of Sliver, T-Don, Horns and Tonn
I participated in a campaign on behalf of Mom Central Consulting for VTech. I received VTech Switch & Go Dinos product samples to facilitate my review.