How to Fix Bed Sheets with Bad Elastic – The Easy Way! | #diy #tutorial
Growing up, when we'd have sheets that wouldn't stay on the bed, my mom would put these clip on elastic sheet straps on every corner of the fitted sheet.  I had a love/hate relationship with those things, because even though I loved that they kept the sheet on, I hated having to put them on when we changed the sheets!  Now, I don't have to worry about it!  Check out this quick tutorial on how to fix bed sheets with bad elastic the easy way!
We have a sheet set that's got a pretty high quality thread count, but the elastic is shot after about 5, or so, years of use. The last thing we want to do is spend $80+ on another set of good, high quality, sheets, so I've decided to take it upon myself to fix them up without replacing the entire length of elastic OR bothering with clip on sheet straps!
If you've ever picked up a needle and thread for anything, you can do this!  It's so simple.  You can use any kind of elastic, but here, I've used what I have on hand – 1 inch fold over elastic (in the past, I've used it for diaper making).
What you'll need:
Fitted Sheet with bad elastic
48 inches elastic (any size)
Measuring tape
Fabric pencil (or a pen, or a marker.. just to make your fabric)
Needle
Thread
Scissors
1.  Cut elastic into 12 inch pieces.
2.  Measure approximately 12 inches from the corner of the sheet and mark your spot in both directions.
3.  Fold the end of the elastic under, and using your needle and thread, hand stitch the elastic to the sheet.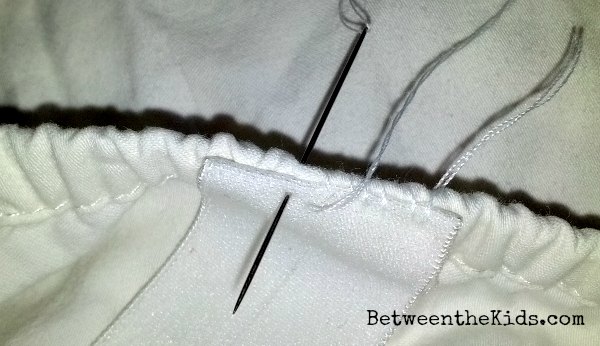 4.  After you've gone down the length of the elastic once, drop down under that row of stitching, and do another row back up to where you started, and make sure you tie off your thread by making a knot.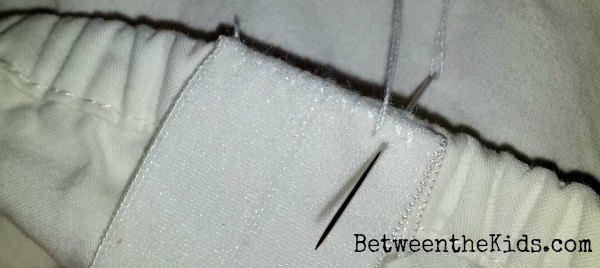 5.  Making sure it's straight, attach the other end of the elastic to the other side of the corner.
6.  Repeat on the other three corners of the sheet.
I just have to say, that in this next photo, my mattress cover is actually a cream color.  The flash on my phone washed it out in the center, making it look my my mattress is nasty.  It's not!
This is a bad pic, but it's the easiest way to show what it looks like when finished.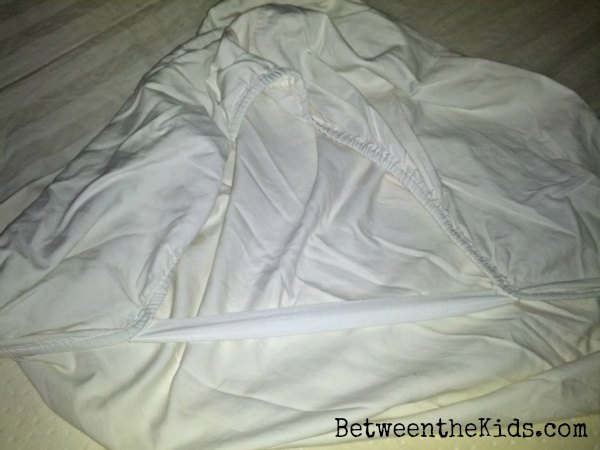 Here is what it looks like on the bed.  It may be a little tight to get around the corner of the bed, but this is what the extra row of stitches is for – reinforcement!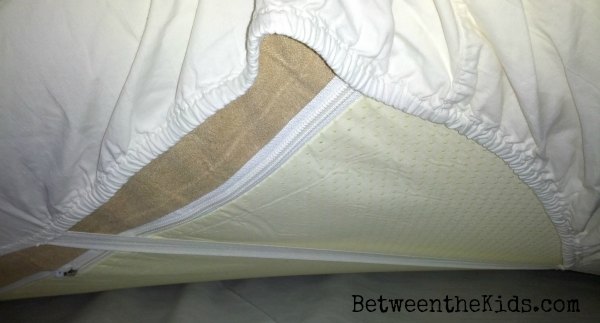 Now, I can use my favorite set of sheets without having to replace the entire length of elastic, and I don't have to worry about the clip on sheet straps!