Spark of Amber Review – 18″ Amber Necklace for Mom | #Giveaway (5/23)
It's no secret that we use amber teething necklaces with our little ones.  No, that doesn't mean that Jett is cutting teeth, right now, by chewing on a necklace.  He's simply wearing a very cool and hip amber necklace.  What you may not know is that I also wear amber necklaces, but I wear them to help control headaches and earaches.  Not to mention, necklaces by Spark of Amber are beautiful and reasonably priced!
As I've written before, Amber is a great, natural way to relieve pain.  From a previous post on natural teething relief:
The misconception behind teething necklaces is that they aren't for chewing on or cutting teeth.  Amber is actually fossilized tree resin that contains succinic acid.  Against the warmth of your baby's skin, the succinic acid is released from the amber, and soothes your baby's pain. (They are also great for adults with pain as well.)
Check out this beautiful amber set from Spark of Amber.  Kylie is wearing an 18 inch necklace called "The Autumn".  This necklace has long natural polished amber nuggets that fastens with a screw clasp, it's light weight, and it's anti-inflammatory!  The matching earrings are a great way to turn this very practical and healing necklace into a beautiful set that can be worn with most any outfit.  This 18″ necklace retails for $21.99, and the earrings for $17.99.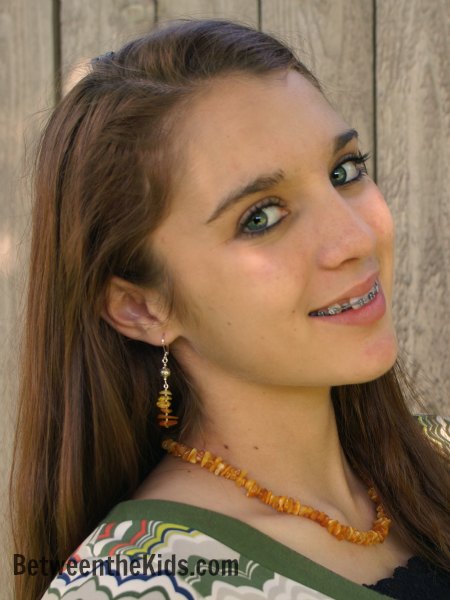 Here is a closer shot of the necklace and earrings!  Gorgeous work.  I love how the earrings are a perfect gradient of color.  I could not be happier with this set.  It's beautiful, light weight, very well crafted, and a great conversation piece!  Where else are you going to get a beautiful set, like this, for around $40 that is actually working toward healing your body of pain?  It's a win/win situation!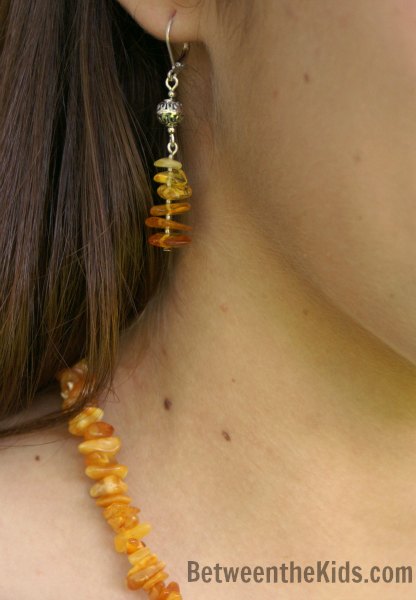 After receiving the necklace that is supposed to be mine, Kylie begged me for it, because she hasn't ever had amber before (we didn't start with amber until our 3rd child), so I decided that this is her necklace, and I will borrow it if I need to!
Fast and Free Shipping!
Spark of Amber creates high quality amber necklaces with authentic Baltic amber from Lithuania and the Baltic Region.  In addition to necklaces for adults, they offer:
Amber Teething Necklaces
Hazelwood and Amber Jewelry
Breastfeeding Necklaces
Amber Pendants
Earrings
Rings
Key Chains
Pet Collars
and more…
Enter to win an 18″ amber necklace from Spark of Amber!
Enter to win a beautiful amber necklace from Spark of Amber!  (Necklace only, US only)
Disclosure:  I was given a necklace and earrings set from Spark of Amber to facilitate my review.  I was not compensated for this post.  All opinions are my own.