VTech Switch & Go Dinos – Jagger the T-Rex Review & Giveaway
Now that school is back in session, the boys aren't allowed to play video games during the week, because they're so obsessed!  The good news is, they have some really awesome new toys to play with!  The new VTech Jagger T-Rex Switch & Go Dino is SO cool!
Last year, they were able to review Brok and Span, and they loved them!  This year, they think Jagger is SO much more awesome.  He's the perfect toy for my geeklets!
Braxton and Hawk haven't ever had a toy that interacts via voice commands quite like Jagger!  Even Andy had a blast figuring this bad boy out, and the baby….  he can't stay away either!  Although this toy say that it's for ages 3-8, I have to say that my oldest son is 9 and he really likes Jagger… and I think my hubby was having just as much fun with it as the boys were.  So, I say there is no age limit!
Meet Jagger.  He's the new VTech Dinos Switch & Go T-Rex who is ALL the rage right now because of his ability to listen to you kids and do as they say!  But wait!  He's also a really, really cool construction crane that follows their commands as well! I like that VTech has actually included a voice command card in the packaging so that the boys can read the commands directly from the card.
I'm Jagger the T-Rex, and my power is yours to command! Tell me to "go", and I'll make the earth shake with my powerful legs! Or tell me to "eat" and my spike-like teeth and super-strong jaws will leave nothing behind! With your brains and my brawn, we can do anything! Just say the word! VTech's Jagger the T-Rex™ transforms from a super-cool construction crane to a fierce Tyrannosaurus Rex in just a few simple steps. Combined with voice recognition technology, this toy dinosaur is one of the coolest Switch & Go Dinos® yet!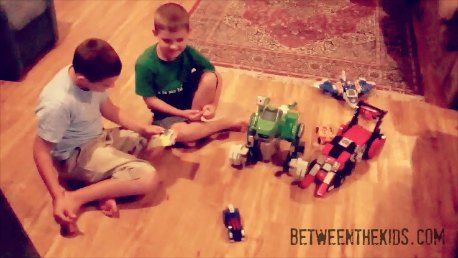 Jagger makes over 90 different sounds and has 24 different voice commands!  You see the red thing on his tail?  When he's changed into a crane, the kiddos can tell him to fire his drill, and he'll shoot it at you!  It's pretty neat.
This toy is so much fun!  My boys crave toys that actually keep them entertained, and Jagger does a great job at keeping their attention for long periods of time.
Jett loves playing with Jaggers smaller friends, Stompsalot, Akuna, and Jagger!
Check out this little video we made of the different ways that you can interact with Jagger and his friends!
Enter the Dino ROAR Photo Sweepstakes on Facebook! (This sweepstakes is separate from my giveaway on my blog!!)
Start:

August 19, 2013 @ 08:00 am (US/Eastern)

End:

September 09, 2013 @ 08:00 am (US/Eastern)

Grand prize winner will win the complete line (15) of Switch & Go Dinos®. Approximate retail value $348.00.

One winner per week will win Jagger, the T-Rex™ from the Switch & Go Dinos® line. Approximate retail value $70.00.
Enter to Win VTech Switch & Go Dinos Gift Pack
Please note that the smaller dinos you receive may not be the ones I received.
This giveaway has LOTS and LOTS of chances for entries!  Make sure you check them all out and take advantage of them, because this is a great way to get a head start on SEVERAL Christmas gifts!!
I participated in a Switch & Go Dinos campaign with VTech. I received VTech Switch & Go Dinos product samples to facilitate my review & giveway.  All opinions are my own. I was not compensated for my post.