RobiComb Lice Zapping Comb Review | LiceGuard Treatments
Lice.  Lice, oh, lice, oh lice…  Our house has been plagued with those nasty little critters more times that we'd like to admit.
Treating lice can be extremely expensive and dangerous to your child's health if you use the traditional chemical treatments.
With active kids, it's going to happen.  Lice can be transferred at school, on the ball field, at church, during a sleepover, on a camping trip, at a restaurant, on the playground, through sharing hats, scarves, stuffed animals, towels, brushes, beds, your couch, carpet, or just about anywhere else your hair can go.
My boys have come home with lice from sharing baseball helmets, and my daughter has come home with lice from just about every camp she's ever been to, and several times, from school.   There have been times that we've battled lice for weeks on end.  I remember, one summer, just as soon as we'd get rid of them with my daughter, she'd come home with them again.  All we could do is control what we did to treat it at home.  When kids would continue to go to church or camp with lice, it was so hard to keep up with.  It was very disheartening, and even though we tried to treat it naturally we had to resort to chemical which started causing burning of the skin and terrible headaches.
When an opportunity came along to check out a pretty awesome "lice gadget", I jumped on it!  The RobiComb Electric Lice Zapping Comb by LiceGuard actually zaps and kills lice and their eggs on contact!  I love this non-toxic treatment for lice.  Did you read that?  NON-TOXIC!
For only $26.95, you can purchase the RobiComb once, and have it for future infestations.
"But my kids always have clean, well manicured hair!" you say.  I say, that's great, but lice love your clean kiddo's hair!  It's estimated that 6 to 12 MILLION infestations occur each year among children 3 to 11 years of age.  Of course, they really don't have an age preference, and teens and adults can also get lice.  They creep me out, really, so I like to stay prepared.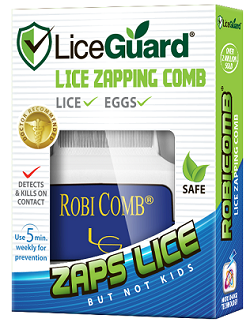 When you turn on the RobiComb, you will hear an electronic buzzing sound.  You'll comb through the hair with the comb (in sections), and when the comb comes in contact with lice, the comb will zap it (I picture one of those outdoor bug zapper lights!!), and the buzzing sound will stop until you've used the brush to remove the lice from the comb.  It's actually pretty neat!

Check out this video to see how easy it is to use the RobiComb even in the curliest of hair!
Benefits of RobiComb:
Effective – Kills lice and eggs on contact
Saves You Money – Buy once – use again and again
Completely Safe – Kills lice, but safe for your child
No Exposure to Harmful Pesticides
Fast – You'll be free of lice in minutes
Prevents – Regular use will prevent against future outbreaks
Peace of Mind – You'll know for sure when you are lice-free
Easy to Use – You can use anytime, anywhere
Good for the Environment – No chemicals are used at all
My suggestion:  Even if your little one (or you… because face it, it happens!) doesn't have lice right now, I would suggest being prepared and spending less money up front on LiceGuard products than waiting until the lice actually show up.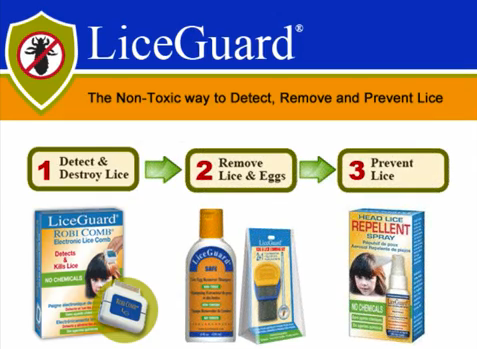 LiceGuard products, including the RobiComb are available online (Free shipping on orders over $25!) or CVS and Walgreens.
Disclosure:  I was given a sample of the RobiComb to facilitate my review.  I was not compensated for this post.  All opinions are my own.