bitti tutto ones&twos diaper review | #clothdiapers
I'm on baby #4 and I am still on the lookout for new diapers whenever I see a style or brand I have never tried. Lucas is a big boy with a high rise, wide backside, and large thighs. This makes it difficult to find diapers that fit him well. When I was given the opportunity to review the bitti tutto ones&twos diaper, I jumped on it because I am always on the lookout for diapers that are trim, yet offer proper coverage for my little guy. ones&twos boasts that they offer a trim and comfortable fit and that one size fits most babies. Lucas doesn't usually fall into the "most" category but I was willing to give them a try. I am so glad we tried them! I love the fit of this diaper on my little guy!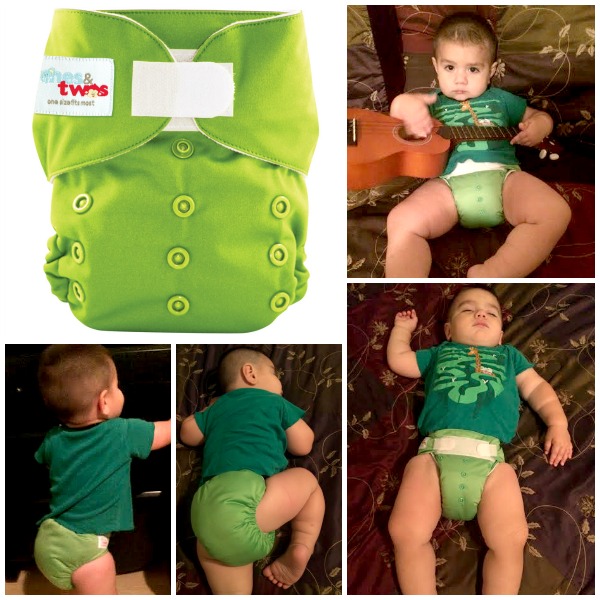 FEATURES
The bitti tutto ones&twos diaper has an easy to use hook and loop closure that make diapering a breeze, especially for grandparents and caregivers. I am usually turned off by hook and loop closures because my 16 month old can easily undo them and ends up walking around diaperless. We have been using these diapers pretty regularly for a month and the laundry tabs are still very strong and Lucas has not once been able to undo his diaper.
There are 4 rows of rise snaps to adjust the rise to fit most babies newborn to potty-training (6.5lbs – 39lbs). Lucas weighs approximately 30lbs and has a high rise. We have the diaper completely open and his entire backside is covered.
An absorbent microfiber soaker pad is sewn into ones&twos diapers. Each diaper also comes with an additional microfiber soaker pad (with stay dry layer made of suedecloth) that can be laid in the diaper or slipped inside the front pocket. Diapers are lined with stay dry fabric. Extra bamboo boosters are available separately for nights and heavy wetting babies.
We use the diaper with the extra microfiber insert laid on top to increase absorbency. We tried it without the added soaker but it didn't work well for us. The diaper is trim and fits under his shorts and pants with no extra bulk. This truly is a trim fit diaper. The trim fit does not compromise absorbency for us.
I have a tried and true night time diapering solution, but I had to try these at night to give an honest opinion. I used both the microfiber insert and the bamboo insert for night time and was amazed that Lucas did not have any leaks. He's a very heavy wetter at night. The ones&twos were bulletproof when put to the test!
The colors are vibrant! The material is super soft, both inside and out! We have 3 of these diapers in navy, green, and red. The red is my favorite, but all of the colors are so bold and have remained so after several washes. The insides, soakers, and outsides of the diapers have stood up to the test of my rowdy toddler and several washes and still look as new as the day we received them.
Because the soakers lay in, there are no pockets to stuff or unstuff. This makes for no-fuss diaper laundry. The elastic in the legs provides a good fit on my little one. We have not experienced any leaks with pee or poop diapers. The back side is wide enough to cover his entire back side. The rise is perfect for Lucas and offers coverage all the way up to where he needs it in front and back.
Overall, the ones&twos work really well for us. I find my mom and sons often reach for these diapers when they change him and these are always in our diaper bag when we go on an outing because the trim fit works with any outfit he wears. With a price tag of approximately $17, this diaper is a good option for adding to our stash.