Geeked Out Backyard Camping with Energizer | #PoweringSummer
So many of our friends have either already taken or will be taking a camping trips soon, and with our full work schedules, we haven't been able to set aside time to take them camping like we've wanted to. So…. we decided to set up a makeshift tent in the back yard for the boys to enjoy, and we threw in a few Energizer brand products for a little fun to light up their summer night!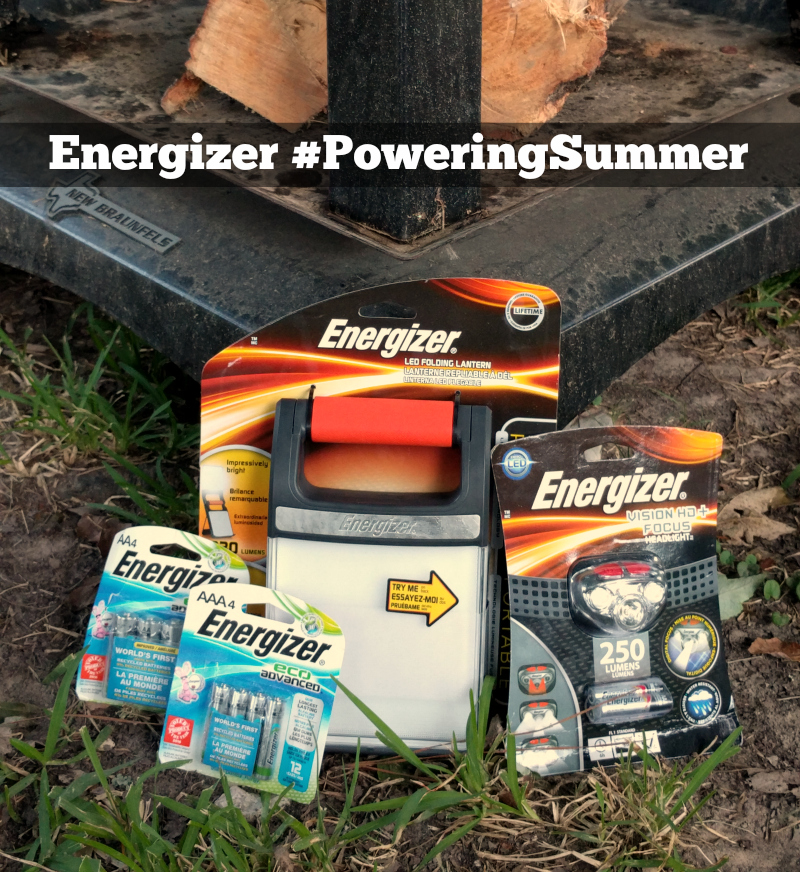 We used to go camping all the time, but now that the kiddos are more into gaming and indoor activities, we haven't in long time. Generally, when we'd go camping, campfires and propane lanterns were the lights of choice, but now that the whole family is pretty much full on geek,  the conveniences of electricity and battery powered products are the way to go!  Our backyard campsite is helping us prepare to take a camping trip in the fall where it's cooler in Texas and the skeeters aren't so bad!!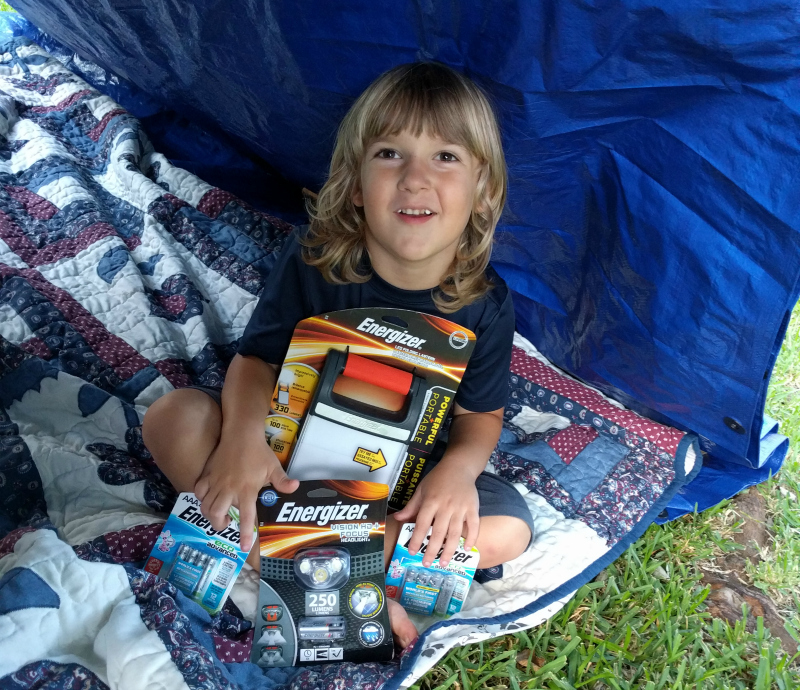 Geeked Out Backyard Camping List – Energizer Powering Summer
Tent
Blankets
Pillows
Energizer® Fusion LED Folding Lantern
Energizer® Vision HD + Focus LED Headlight
Energizer® EcoAdvanced™ batteries
Games
Kiddos
Dog
Fire Pit
Food
Water
For our night out, we had a few fun Energizer products to help us light the way.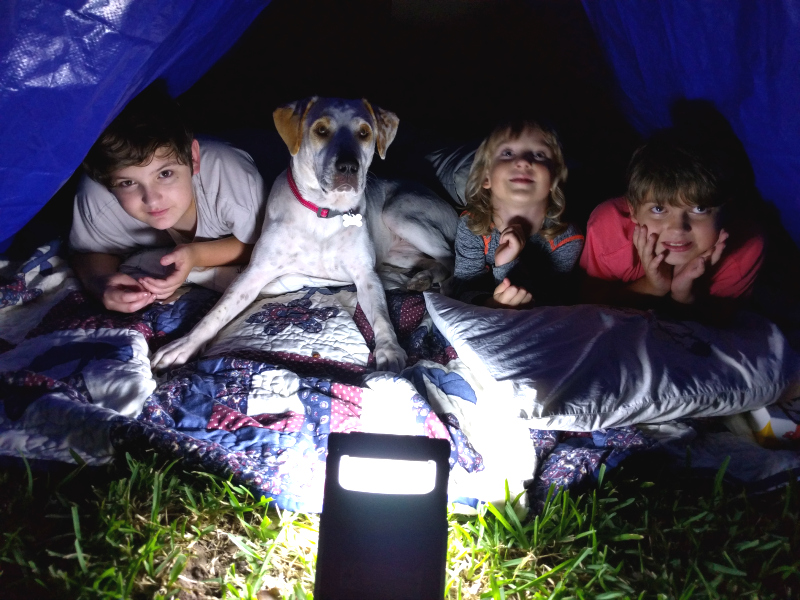 Yes, even Shiloh wanted to get in on the action.  She thinks she's one of the boys.  She was not about to miss out on this fun!
I love how this folding lantern lights up so much of the tent. There was so much light, that the Minion wasn't in the least bit scared of the dark.  Actually, he's wanting to spend this whole weekend out there in the tent!
Energizer® Fusion LED Folding Lantern
The Energizer® Fusion LED Folding Lantern is not only versatile, but it's extremely bright, and you can take it with you anywhere you go!  It's compact, and you don't have to worry about spilling fuel, starting fires, breaking glass, or burning up mantles.  It has a 330 lumen output (which is awesome!), and the stand makes it easy to set up so that someone doesn't have to hold it or hang it from a stand.  The really cool part is that it has high and low settings PLUS dimming technology.  It's extremely customizable and VERY affordable!
Energizer® Vision HD + Focus LED Headlight
My boys love wearing headlamps.  They have seen my daddy and my hubby use them for working on projects, under the hood of the car, in the shed, and other places, and they have had several of them in the past.  I can say that the Energizer® Vision HD + Focus LED Headlight are by far the best and brights headlamps we've ever used.  With a 250 lumen output, it shines light up to 80 meters, and it's even water resistant up to 1 meter.  That's just insane.  It's even impact resistant, which is FANTASTIC for a house full of boys.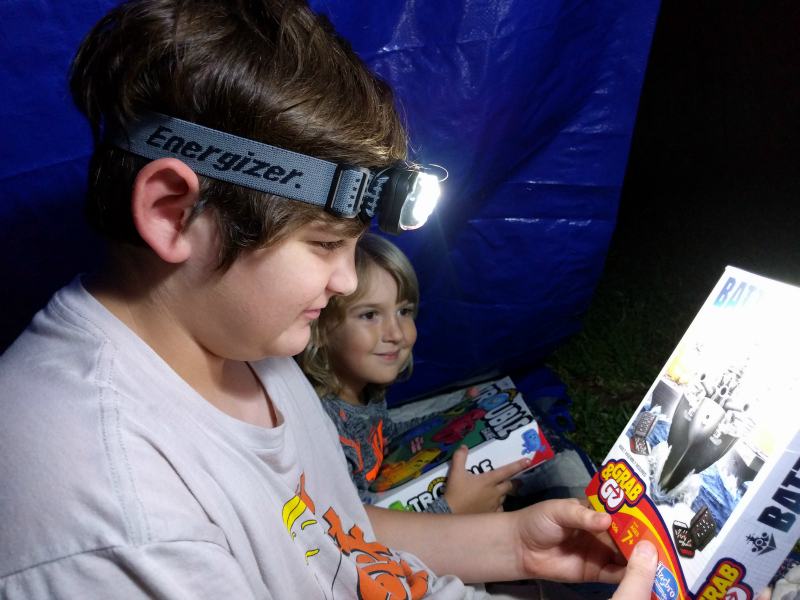 This headlight is great for playing games at night!
Last but not least… Don't forget the batteries.
Energizer® EcoAdvanced™ Batteries
If you're looking for batteries that have a lower impact on the planet, these are definitely the way to go.  Because they are partially made with other recycled batteries, they require less mining to produce, which in turn makes the a more responsible choice for consumers.   Not only that, but they're Energizer's highest preforming alkaline batteries which are better for your pocketbook.
If you're planning on taking a camping trip soon or just getting out in the yard with the kids, check out what Energizer has to offer.  They have more than just batteries!
Energizer® EcoAdvanced™ batteries are the world's first AA and AAA battery made with four percent recycled batteries.
Energizer headlights are lightweight, versatile and water resistant with pivoting functionality to direct light where you need it.
Energizer area lanterns are the safe, reliable way to provide bright 360° light long into the night, at the camp fire, or while weathering a storm.
Hurricane Preparedness
Speaking of weathering the storm, these are great items to put in our hurricane kits!  We live close to the bay in south Texas, so now is the time that we start putting together our kits in case of a hurricane.  There have been many years that we've been left without electricity due to a hurricane, and having lanterns, lamps, flashlights, batteries, etc. on hand are always a good idea.  It's never fun to be stuck without lights or power.
Enter to win an Energizer Product Pack!
One Energizer® Fusion LED Folding Lantern
One Energizer® Vision HD + Focus LED Headlight
One pack of Energizer® EcoAdvanced® AA Batteries
One pack of Energizer® EcoAdvanced® AAA Batteries
 Disclosure:  I am part of a paid campaign on behalf of The Motherhood for Energizer.