The Uplifted Series – Johnston's Pallet Revival
As you saw in my post about what's new with the family, we've started doing some fun projects with pallet wood.
Not only have we done a lot of great signs and projects for ourselves, but we've also created some really awesome signs and things for our wonderful customers.
We recently introduced a new series of signs called The Uplifted Series.  Basically, this is a simple and affordable way to show someone how much they mean to you!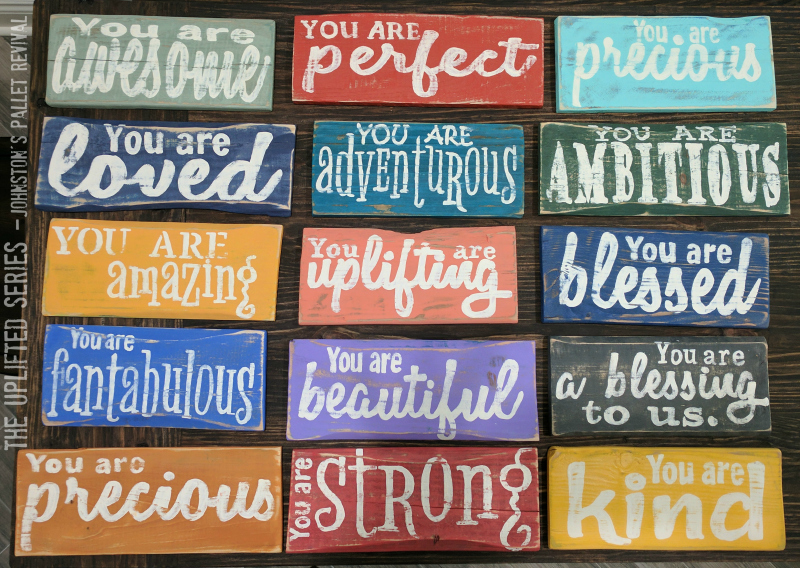 Do you have a friend or family member who can use an uplifting reminder that he or she is worthy, blessed, enough, precious, fabulous, loved, beautiful, and so on? We're excited to launch the extremely meaningful and inspiring Uplifted Series to help spread a positive message throughout our families and communities. These wall hangings are not meant to blend in with existing home decor, but they are meant to stand out as a constant reminder of just how important the recipient is to you. No two pieces are exactly alike, because they are hand drawn and painted, and they can be customized for your needs. Each piece will be numbered so that we can all have a reminder of how many people have been uplifted. Each hanging comes with a wall hanger already attached. They are great for birthdays, RAKs (random act of kindness), bunco, etc. $8 each or 3/$20