Swap your kid and baby clothes for $3 a box!
I am always looking for a way to recycle ANYTHING I can get my hands on!  Hand-me-downs are great, but how cool would it be if you're younger kiddo didn't have to wear the same clothes as his older sibling?
Quick and Easy Children's Clothing Swap! Why buy new clothes for kids, when you can swap 'em for a fraction of the price? Sign up for Free today!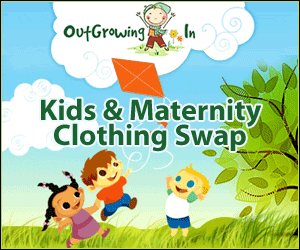 This is a really cool site that allows you to swap your kiddos' clothes for $3 plus shipping a box!  Basically, you sign up, they send you the boxes, you fill them and list them!  According to the site, you can fit about 10-15 children's items per box.  There is also an option for Maternity clothes at $5 plus shipping a box (I believe it says 5-6 items per box).
Quick and Easy Children's Clothing Swap
Our goal is to make trading kids clothes simple and affordable for busy families. Search our children's clothing boxes by size, type, color, and brand. It will be sent to you quickly by another Out Growing In family. We just ask that you do that same in return, so there will be a great selection of children's clothes for all to enjoy.
What a great way to recycle the clothes your kiddos outgrow! Start swapping your kids' clothes today!