A NEW Nighttime Cloth Diapering Solution! Blissful Booty Review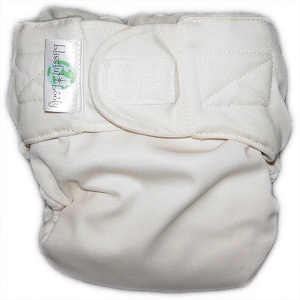 Blissful Booty Toddler XL Cloth Diaper Review
Not too long ago, Cathy Brown from Blissful Booty Cloth Diapers mosied her way on to  one of my Facebook pages and soon after into the inbox of one of my fabulous friends, Brandy, from Not So Average Mama, asking her if she'd like to do a giveaway of one of her cloth diapers.
Not too long after that, I asked about sizes, because we're always looking for nighttime diapers for our boys, and the relationship began.
Not only did Cathy send me Toddler XL Blissful Booty diapers to review and giveaway, but she also sent me a sweet little gift for our new arrival – two of the CUTEST newborn diapers.  I immediately fell in love.
Hawk is a 40 pound 4 year old and Braxton is a 60 pound 6 year old.  These cloth diapers fit Hawk fabulously, and sadly Braxton is on his way out of them.  But come on, a diaper that fits to around 60 pounds (depending on the kiddo's build) AMAZING!
Hawster in an XL Blissful Booty
For only $17.99 a diaper, check out these fantastic specs:
Blissful Booty Diapers Feature:

Back and front elastic gathers to prevent leaks
Hook and Loop closure for a snug fit
Luxurious, stain resistant inner lining made of no-pill microfleece, that wicks moisture away from sensitive baby skin
Snug inner and outer leg casings for ultimate leak protection
Soft, waterproof cloth outer cover; No more hot rubber pants!
Super absorbent microfiber terry inner soaker
Large, soft, fold back laundry tabs to prevent the dreaded "diaper snake" when washing
Crossover front tabs for thin babies, or when you are transitioning to a new size

Not only do soft, comfortable cloth diapers feel better against babies skin, they are recyclable and reusable. When choosing Blissful Booty Cloth Diapers, not only are you making the most comfortable, healthy choice for your baby; you are also taking an important step towards giving future generations a cleaner, greener planet.   REduce, REuse, REdiaper!
What my family really loves about this diaper is that it's trim enough for growing boys to wear at night time!  It's  the perfect AIO (all in one) diaper for non-to-light nighttime wetter, and for those heavier wetters, all you have to do is add a booster or two!  The perfect nighttime cloth diapering solution!
Purchase Blissful Booty Cloth Diapers
To purchase your own Blissful Booty Cloth Diapers and Accessories, please visit the website. From time to time, she has factory seconds available.  Seconds are diapers that aren't perfect but still completely functional.
Win a Toddler XL Blissful Booty Cloth Diaper
This giveaway is now CLOSED!
Please note that this is for an XL Celery Blissful Booty Cloth Diaper only.  There are no size exchanges. Please do not ask.
Please make sure you post one comment PER entry!  I have an app that automatically chooses the winner from the comments.  You'll definitely want to make sure that you have as many comments (entries) as possible!
Mandatory Entry – Check out BlissfulBooty.com and let me know what other product you think is just fabulous! (1 entry)
Tons of BONUS Entries
Giveaway ends Thursday, March 24, at Noon Central. I will use the "And the Winner Is…" plug in to choose a winner.  The winner will have 24 hours to respond to the winning email.
Disclaimer – Blissful Booty supplied me with this product for review purposes only.  I was not compensated for this post and all opinions are that of my own. (Thank you, Cathy, for the opportunity!)