How to Expedite an Amazon Refund for Damaged Products
Have you ever ordered detergent from Amazon, and it show up at your door spilling granules all over your porch, and a trail from door to your laundry room?  That's what happened to me this week with my Ecover Ecological Laundry Powder.  I was happy to find the great deal on Ecover at Amazon, but was very disappointed in how and when it arrived!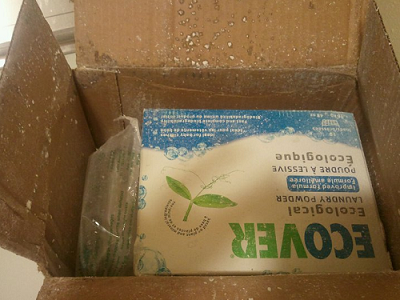 I went to Amazon.com to see what I could do about having this order replaced, and the only option given was to ship the product back for a refund, then reorder.  Well….  the last thing I wanted was to go out of my way to ship this back to Amazon trying to figure out how to keep it from spilling it's way back across the country on it's way.  (I was already angered that there was a shipping delay after I'd paid for faster shipping that was neither recognized nor reconciled by Amazon.)
I decided, as a last ditch effort, to contact Amazon customer service via chat to see what could be done.  I've already been without laundry detergent for 7 days due to the shipping delay, and because of the Subscribe & Save
option I chose for my next shipment, I was unable to choose 2 day shipping, so with the option give, it would be a week until I would be able to wash cloths again! Ack!
The link to Contact Amazon
 can be quite tricky to find if you're in a hurry, so here's a quick link.  You can even chat online with them which is better than a phone call or email!
Here is how I receive an expedited** Amazon refund.
Amazon Chat:
Me: Hi, I filled out a return shipment on this order, but I'd rather not have to go through the hassle of making sure this stuff doesn't spill across the country, again, during return shipping. Is there anyway, to not worry about returning it and mayby send you a photo on how it arrived?
Raghavender: Hello, my name is Raghavender. I'll be happy to help you today.
No problem. We'll take care of it. Return it with the return mailing label and we'll take care of it
Me: Even if it's detergent that has spilled all on my front porch, in my house, and will probably do the same on the way back to you?
Raghavender: Can you please confirm the order number and the item for me?
Me: Order #102-2306944-xxxxxxxx
Raghavender: I'm refunding it right away. I don't want to trouble you with the return, please dispose it off at your convenience
Place a new order for it
Me: Thank you so much. I just don't want it to cause more of a mess than it has. Do you need to see a photo?
Raghavender: No. your word is enough Lisa. I'll refund and send you a email confirmation shortly
Me: Thank you so much. This has really made me feel better. You just lifted a huge weight off of my shoulder. I really, really appreciate it.
Raghavender: You're welcome. Thank you for contacting Amazon. We hope to see you again. Have a nice day.
**Please note that this my not work for all products, however, if you have a product that has been spilled or leaked during shipping, this may work for you.
I also want to note that the although product is still usable even though it spilled/leaked. However, when you pay for something, you expect it to arrive in the condition you paid for.  Once opened, there was approximately 1/4 of the detergent missing form the box which  means that I would only be able to wash about 14 loads instead of 19.  This is about $3.75 plus shipping wasted.
No matter how much you spend on a product, remember, even if it arrives in usable condition, if it's damaged in shipping, you're entitled to a refund or a replacement.