Homemade Natural Diaper Rash Cream Recipe | Cloth Diaper Safe Salve
10.9K Flares
10.9K Flares
×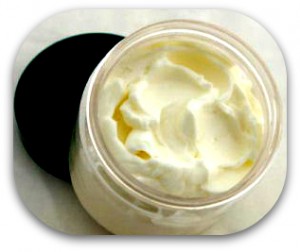 I use this for more than just diaper cream. It can be also used as a full body cream as well as healing ointment.
All ingredients promote healing and healthy skin.
1 ounce coconut oil – antiviral, antifungal, anti-yeast
1 ounce olive oil – antibacterial, antioxidant
1 ounce shea butter – anti-inflammatory, moisturizer
1 ounce cocoa butter – antiseptic, moisturizer
1/2 ounce beeswax – anti-inflammatory
grapefruit seed extract – antibacterial, antimicrobial
2 tsp chamomile flowers (dried) – anti-inflammatory, disinfect
your choice of essential oil (lavender, chamomile, sweet orange, etc.)
A couple of hours before, heat olive oil on low heat (do not bring to a boil) for 10-15 minutes.  Add chamomile flowers and stir for about ten minutes, then take off the heat and set to the side.
In double boiler, or on LOW heat, add coconut oil, STRAINED olive oil, shea butter, cocoa butter, and beeswax until melted.  Mix well.
After all ingredients have melted take off heat and move to a container that is safe for mixing.
Let the mixture cool.  Just before it hits room temperature, add 5 drops of Grapefruit Seed Extract, and 3 drops of your choice of essential oil.
Using a wisk, your stand mixer or handheld blender (not a regular blender),  mix on high speed until completely cool and in "whip" form.  If your mixture is runny or not turning into solid form, add more beexwax or cocoa butter – both are solid at room temperature.
Use within one year of making this cream!  This cream is cloth diaper safe!