SWAGBUCKS – Swag Codes Extravaganza and How Swagbucks Works
Today is a GREAT day to join the land of Swagbucks!

Friday 13th:  (1/13/11)

Beginning at 4am PST and going all the way through 6:30pm PST, you'll have the opportunity to earn up to 60 Swag Bucks strictly through Swag Codes. There will be 8 codes total given out throughout the day, and it will be up to you to find them all!
What is Swagbucks and how does it work?
Swagbucks is a search engine that gives you Swag Codes just for searching.
Swag Codes are strings of text that you can apply for instant Swag Bucks.
Swag Codes can appear anywhere, and at any time, throughout the Swag Bucks network. Sometimes, they LoOkl1keTh1s. Sometimes, they LookLikeThiso32943xx. And sometimes, they might even LookLikeThis. Each code is worth a certain amount of Swag Bucks, and you can redeem these by entering the EXACT string of text (it is case sensitive) in the "Gimme" box on the Swagbucks homepage.
Where can you find Swag Codes?
Check out Swagbucks Widget (mine is located in the right sidebar year long, and in this post)
Swagbucks Facebook
Swagbucks Twitter
Swagbucks Blog
In the sliding picture on the Swagbucks Homepage
In a product description in the Swagbucks Store
In a SwagbucksTV Video
On the Swagbucks Chatbar
In your Email
How do I get more Swagbucks?
Use Swagbucks instead of Google to search
Install the Swagbucks Toolbar to make it easy to search
Make Swagbucks your default search engine to make it easier to search
Look for Swag Codes daily
Do surveys
Take Swagbucks up on their Special Offers
Refer people
Shop online
Print Coupons
Play Games
Here's my Swagbucks Widget:
How do I enter the codes I find?
When you find a code, enter it in the "Gimme" box at Swagbucks.com!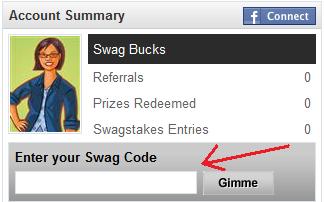 Want to know a little secret to earn more Swagbucks?  Before (or after) you enter the code in the Gimme box, try adding it to the search box like you would normally search a topic.  Because you we randomly get Swagbucks for searching, you just might get extra Swagbucks for the extra search!  (You won't get bucks every time, but it will put you one search closer to getting the bucks!)


How do redeem your Swagbucks?
Head to the Swagstore
Search for the products you want
Purchase the product
Verify your order
I have redeemed mine for more than $100 in Amazon Gift Cards last year!!!
Can I refer people?
You can definitely refer people.  If you link your SB to your facebook or twitter, each time you receive a code, they'll know.  Friends and family can sign up under you, and you'll get a portion of their swagbucks each time they find them, up to 1000 bucks!  That's HUGE!