Rainbow Light Allergy Rescue Review | #vegan #glutenfree #allnatural
Half of my family suffers from allergies. Andy, Kylie, and Hawk all three have a hard time with the weather and season changes.  Kylie is the only one who has allergy and sports induced asthma along with it, and it really is no joking matter.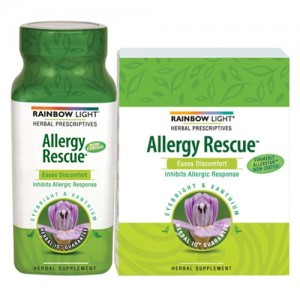 Not too long ago, I ran across Rainbow Light Allergy Rescue.  I had no idea they had relief for allergies, as I have only used them for prenatal vitamins.
I love this brand, because it's herbal, planted based, and chock full of other vitamins and nutrients that addresses everything related to allergies, and doesn't just dry you up and make you sleepy!
Andy's allergies are at their worst when he mows the grass (and when the ligustrums bloom!!), and it takes him a couple of days to get back to normal. Because he usually mows once a week, we were excited to try Allergy Rescue.
The first two times he tried them, he did not notice that much of a difference, but by the third use, he began to notice that he did not have as bad of a reaction to the cut grass as he did before.
Now, he takes them daily to make sure he doesn't have issues with allergies, and when he mows the grass, he takes them twice daily to make sure he doesn't have a severe attack the way he does without taking anything at all.
Our favorite things about Allergy Rescue are:
It's non-drowsy, so we do not have to worry about being groggy or sleepy after taking them.
They are full of Vitamin C which helps strengthen your overall immune system.
100% natural – no artificial anything.
Product Highlights:
Eases discomfort and inhibits allergic response
Eyebright and xanthium ease respiratory discomfort
Quercetin addresses runny nose, itchy eyes and swelling
Herbal IQ™ Guarantee ensures purity, efficacy and safety
VeganGuard®: Free of animal products
Allergen Safeguard®: Contains no gluten, soy, yeast, milk, eggs, nuts, fish or shellfish
100% Natural – Free of artificial colors, flavors, sweeteners, preservatives and additives
Take a look at all of Rainbow Light's products here!  You can purchase Allergy Rescue in 30 or 60 count bottles at a great price on their website.
Disclosure – I was given full samples of Rainbow Light Allergy Rescue for review purposes.  I was not compensated for this post.  All opinions are my own.