Acer Iconia W3 8.1″ Tablet Giveaway (10/21)
We're a geeky gamer household.  It doesn't matter how much we hear it from family and friends…. that's just how we're going to be.
At any given time, you can find a tablet, phone, or controller in the hands of my kids, because it's what they love to do.   Does that make them lazy?  Nah, I don't think so.  I think everyone has to find their own thing, and my kids are entertained and often educated by the electronics they hold in their hands.
Braxton (9) and Hawk (6) use tablets and phone apps to learn anything from math to reading to music, and Jett (2) love learning animal sounds, his ABCs, and his 123s from various apps we have on our tablets and phones.  It's the way of their generation, and I love it!
I was excited when my really good friend, Colleen from Shibley Smiles asked me to help promote her Acer Iconia W3 8.1″ Tablet giveaway, because I love bringing my readers the latest and greatest tech gadgets!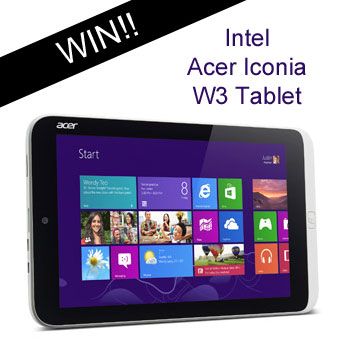 The more I read about this tablet, the more I want to put it on MY Christmas list this year!
Acer Icona W3 Series
The Acer Iconia W3 Series puts desktop PC productivity in a tablet, so you can work on the go more conveniently than ever. At 8.1″, it is compact enough to hold in one hand, yet sports a screen big enough for comfortable viewing. Microsoft Office Home and Student 2013 and sporting 8-hours of battery life, this tablet keeps you in touch and productive while traveling, at work or play. Rounding out this premium mobile-productivity package are Windows 8 and a robust Intel processor.
Enter to win  an Acer Iconia W3 8.1″ Tablet!
Disclosure:  I am sharing this giveaway brought to you by ShibleySmiles.com.  I was not compensated for this post.  All opinions are my own.