We actually saw these while we were out shopping for Christmas.  We didn't see them until we'd already spent most of the money we allotted for each kiddo, so we decided to wait to get them until next Christmas and the boys would be a little older to take care of them better.  Look at how cute – Lego Darth Vader Desk Lamp Groupon.  FREE Shippin!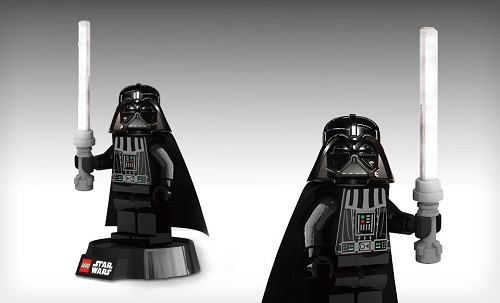 Lego Darth Vader Desk Lamp Groupon – Online Deal
$39 for Lego Darth Vader Desk Lamp ($65.99 List Price). Free Shipping.
The Deal
$39 for a Lego Darth Vader desk lamp ($65.99 list price)
Free shipping
Lego Darth Vader
Darth Vader may have succumbed to the dark side, but the 12-LED lightsaber clutched in his fist lights the way for battling homework problems or writing Ewok fan fiction. Twist the moveable arms and legs to pose the 7.5" figure either on or off the stand. Batteries are included, but you can also power the lamp through USB.
Features
Lego-style Darth Vader figurine
12-LED lightsaber serves as a desk lamp
Arms and legs move unless sealed in carbonite
Batteries included; can also power via USB
Small parts—not for children under 5 years old